Welcome back! We saved your shopping cart for you:
View Cart
The Best: AR15 Mounted Flashlight
What are the best tactical flashlights for an AR15?
Battery Junction's Guide To Buying the Right Light for your Rifle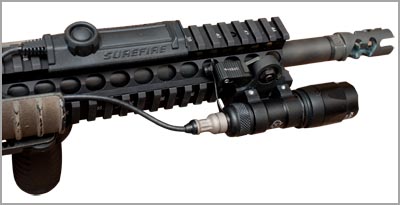 The term tactical flashlight gets thrown around a lot, and it can refer to a seemingly wide range of devices. The fact is the needs of tactical users vary when it comes to flashlights. Some need a primary light for flooding a big open room with tons of light while others need a dependable and compact secondary option. Still others find themselves with more specific needs like ultra-low modes, red or UV lighting, or as we'll discuss here, the ability to mount the light on a weapon.
When it comes to handguns, weapon lights are limited to their size and shape, and often the best options are purpose-built devices like the Surefire X300 or Streamlight TLR-4. With rifles and shotguns your options are more varied, and fully-functioning hand-held flashlights become ideal weapon-mounted choices with the addition of a rail mount and pressure switch. We've put together a guide to what we believe makes the best weapon mounted light and compiled a list of our favorite lights for an AR or tactical shotgun set-up to help you decide the best device for your rig.
What to Look For:
Obviously the light you choose will need a weapon mount and remote switch accessory to even be considered here. No need to mess with duct tape and rubber bands anymore. Beyond that, your light should include a few more features to make it a truly capable weapon mount.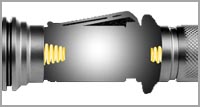 Dual contact springs:
The most important feature of any piece of tactical gear is reliability. When it comes to flashlights, dual contact springs ensure the level of consistent performance you need when it's all on the line. A light that applies pressure at both ends of the battery terminals will maintain its power supply even through the rough action of recoil, making this an essential feature for weapon mounted lights.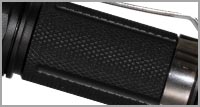 Tough Materials:
This should be a given but as with most gear, lower cost competitors often try to cut corners where they can. For our money, nothing beats an anodized aluminum light. Military spec anodizing protects from scratches and dings while lightweight aluminum can withstand the hits that are inevitable with serious tactical use. The lights we've included in our list also feature stainless steel components for added protection of vital mechanisms.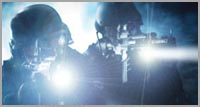 High Outputs:
It's easy to get caught up in the output wars. An extra 50 lumens here or there is nice but it won't make or break a light's overall tactical value. You should, however look for a light with around 500 lumens or more. As LED technology continues to improve, this won't be a tough benchmark to find. We've made sure all of our lights provide enough illumination for lighting up large spaces as well as blinding assailants.
Top 5 Recommendations: