Welcome back! We saved your shopping cart for you:
View Cart
The Best: AA Powered Flashlight
Our Top 5 Favorite AA Powered Flashlights!
---
The AA battery is an inexpensive and widely available power source making it ideal for everyday devices including flashlights. Traditionally, you've had to choose between the more practical battery (AAs) or the power generated by cells like the 18650, or CR123A. Luckily, as technology continues to improve, the world's leading manufacturers have found ways to squeeze more and more lumens from the same cells, meaning AA flashlights are viable options for hikers, hunters, or search and rescue teams. Below we've selected five of our favorite bright, reliable AA powered flashlights.
TerraLUX makes a wide range of AA powered flashlights, and choosing just one was pretty tough. The TerraLUX Colorado won our pick for the number 5 spot for its straight-forward, no-frills design that doesn't skimp on performance. Powered by four AA batteries, the Colorado produces 580 lumens. We particularly like the easy-to-use tail switch interface that can cycle quickly between four output modes, and the rubberized body that offers a secure grip as well as great protection from impacts.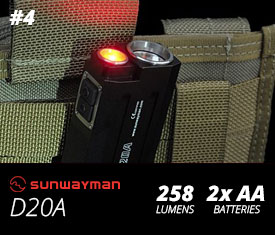 SUNWAYMAN D20A
When we were looking through our list of AA devices, we knew we had to highlight the D20A Gemini from SUNWAYMAN. It's as versatile as it is unique, and although it looks like no other flashlight you've ever seen, it has all the features you'd expect and thensome. Four output modes range from a 4 lumen low mode, to a 258 lumen turbo. Activation and mode selection achieved through two staggered side-switches. A secondary red LED is available for preserving night vision as well. The Gemini uses two AA batteries.
Check out the latest version of the Sunwayman D20A.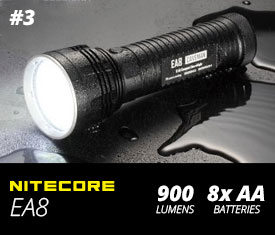 We included the Nitecore EA4 in our video about devices with high lumens-per-dollar ratios. Today I'll highlight the EA4 and its big brother the EA8 as examples of excellent all-around AA flashlights. The EA8 is one of the brightest AA flashlights on the market at 900 lumens, and like the more compact 860 lumen EA4 it uses a comfortable and intuitive camera-shutter style switch. Both are comfortable to hold and offer a realistic AA-powered option for those looking for a capable searchlight.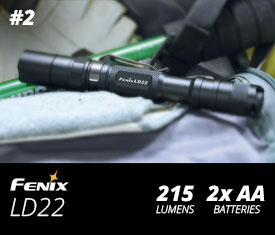 The Fenix LD22 is really a versatile option. It's powered by two AA batteries so it's a bit long, but its slim profile and optional pocket clip make it a viable option for hikers, campers, or anyone in need of a flashlight for the jobsite. A tail switch activates the light and a side switch located towards the head cycles through four modes that reach up to 215 lumens in turbo. The LD22 is built from anodized aluminum and is built to IPX-8 water resistance standards.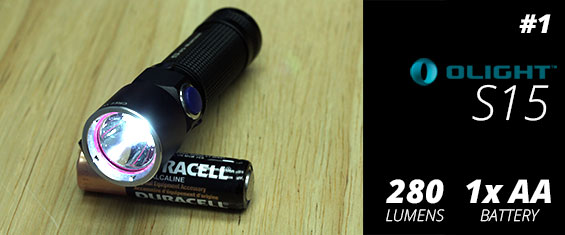 At number 1 we've got the S15 from Olight. This light is a member of Olight's Baton family of lights that each offer simplistic design and impressive outputs. The S15's slim and compact design makes it perfect for everyday carry, while its 280 lumen high mode provides plenty of illumination. The S15 can be run off of just one AA battery, or can be used with optional extender tubes that allow it to be run on two or even three batteries for extended runtimes. The S15 is built from anodized aluminum and features a magnetic tail cap so you can attach it to a metallic surface and light up your area hands-free. This light is great for almost any application or situation!
We hope you liked our list of top five AA flashlights! With so many to choose from, it was hard to narrow it down. You can see all of our AA devices here and decide for yourself! Also, don't forget to check out the accompanying video, and follow us on Facebook, Twitter and YouTube so you can tell us about your favorite AA flashlights! Gear up! Power on!
Posted by
BatteryJunction.com

on

January 16, 2014

| Share this article: