Welcome back! We saved your shopping cart for you:
View Cart
The Best: Lights of 2013
The Best Flashlights of 2013
Roger's In-Depth Analysis of His Favorite Flashlights of 2013


It's Roger from all your favorite YouTube Videos and I've been looking over the new releases from 2013. This was a big year for LED technology. For starters, a number of manufacturers have re-released their most popular models - including Klarus's XT11, Olight's M20, and JetBeam's RRT2 - with the newest LED, the CREE XM-L2.
This newest incarnation of the LED module features incredible gains in output and efficiency over previous versions. We've also seen a number of brand new models - some continuing an established product line, and others released as a new and totally unique model.
My Top 5 Lights of 2013: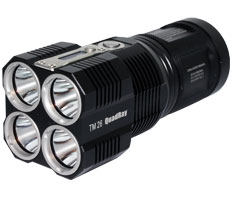 Key Features
Batteries: 4 x 18650 or 8 x CR123A
Incredible Output
Compact Size
Outputs & Runtimes:

Turbo: 3500 Lumens / 0.75 Hours
High: 1700 Lumens / 2.5 Hours
Med: 540 Lumens / 8.25 Hours
Low: 95 Lumens / 48 Hours
The first light came out at the beginning of the year and has totally re-defined what is possible from a compact search light. The TM26, like all of Nitecore's Tiny Monster flashlights, packs massive power into a flashlight roughly the size of a soda can. Its 4 XM-L2 LED's produce up to 3500 lumens in turbo mode! We certainly wouldn't put it into the "Everyday Carry" category. But if you're a hunter, adventurer, boater, camper, or RV-er, this rugged and compact light offers the most bang for your buck of any light on the market. Huge outputs, solid construction, and rechargeable capabilities mean this light is up to any task . The TM26 simply can't be beat.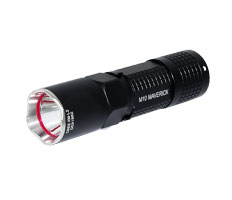 Key Features
Batteries: 1 x CR123A
Dual Switch
Compact Size
Outputs & Runtimes:

High: 350 Lumens / 1.3 Hours
Med: 80 Lumens / 7.5 Hours
Low: 5 Lumens / 108 Hours
My next pick caters to a wider audience than the TM26, and stands as not only one of my favorite lights of 2013, but one of my favorites of all time. Olight's M10 Maverick is ultra-compact, designed to maintain a tactical edge and generate impressive outputs. A tail-switch interface and crenelated strike bezel make this light an effective self-defense device while an optional pressure switch and weapon mount allow it to be attached to any standard picatinny rail system. Powered by a single CR123A, the M10 can produce up to 350 lumens in its highest mode.
But by far the most attractive aspect of this light is its size. At less than 4 inches long, the M10 can be comfortably kept in your pocket or easily stashed in your gun case or backpack.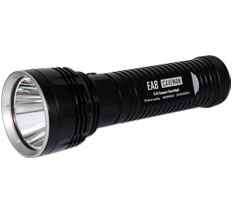 Key Features
Batteries: 8 x AA
High Performance
Amazing Throw
Outputs & Runtimes:

Turbo: 900 Lumens / 2 Hours
High: 590 Lumens / 3.75 Hours
Med: 180 Lumens / 15 Hours
Low: 50 Lumens / 60 Hours
I love the power of lithium batteries such as CR123's and the rechargeable abilities of li-ion 18650's, but it's always good to have a reliable AA light around so you can be confident you'll always find the batteries you need, when you need them. This 8 cell searchlight is full-sized but still compact. With a high mode of 900 lumens, this is one of the brightest AA lights on the market. I particularly like the way this light feels in your hand, and its patented "camera shutter" style interface is easy and intuitive. Its little brother, the EA4, is another great option for anyone looking for a AA-powered light with tons of lumens.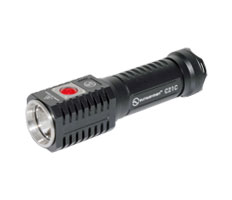 Key Features
Batteries: 1 x 18650 or 2 x CR123A
Every Day Carry
Incredible Output
Outputs & Runtimes:

Turbo: 830 Lumens / 0.08 Hours
High: 510 Lumens / 1.90 Hours
Med: 130 Lumens / 9.5 Hours
Low: 42 Lumens / 31 Hours
This next light is as unique as it is powerful. SUNWAYMAN's C21C Thunder Hammer is the most compact 18650 powered flashlight I've ever seen, and its simple-to-use side-switch interface makes operating the light a breeze. Click the light On to activate and click and hold to cycle through modes. At 4.2 inches long, the Thunder Hammer is small enough to fit in your pocket yet generates 830 lumens in turbo mode! That's a huge output for a compact everyday carry. SUNWAYMAN also included a red LED that can be accessed by a press-and-hold when the light is off. The red LED features a high and low mode, and is perfect for lighting up your surroundings without ruining your night vision.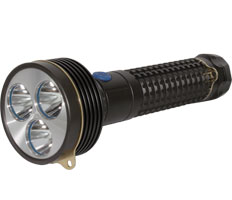 Key Features
Batteries: Rechargeable Battery Pack
Search Light
Very Durable
Outputs & Runtimes:

High: 4800 Lumens / 0.83 Hours
Med: 1500 Lumens / 6 Hours
Low: 450 Lumens / 16 Hours
So I figure it's best to bookend this list with another MONSTER flashlight. Like the TM26, this light isn't for everyone - but if you're looking for the brighest light, there's simply none better. Olight's SR96 is the newest in its line of ultra-high output Searchlights and it's also one of the brightest lights we carry at BatteryJunction.com. This mega-light uses three MK-R LEDs to produce 4800 lumens in high mode. All of Olight's SR flashlights are built to be rugged enough for search and rescue teams, hunters, and adventurers to trust in the harshest conditions. The battery pack features an integrated charge port for easy power.