The Best: Camping Light
What are the best flashlights, headlamps, and lanterns to take Camping?
Battery Junction's Guide To Buying the Right Light for your Next Outdoor Excursion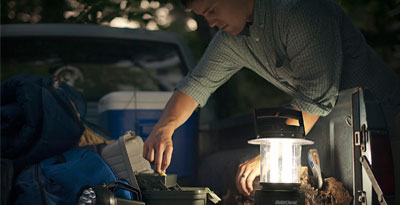 Nothing beats spending some time in the great outdoors. But getting away from civilization means you've got to plan ahead for when the sun goes down. There are a variety of lighting options to keep you out of the dark at your camp site; from lanterns that can light up a tent or picnic table, to headlamps and compact everyday carries that will help you find firewood and trails, to some of the brightest searchlights in the world that can turn night to day, BatteryJunction.com has everything you need to keep the night alive.
Below we've put together a list of our favorite lights to take camping. We're not saying you need to have all of these lights for a camping trip, but they each have their own strengths that can brighten up your time in the woods.
What to Look For:
We carry a lot of different lights here at BatteryJunction.com and there are plenty that would make excellent additions to a camping trip. Below we've put together a list of our favorite lights for the great outdoors, but first let's take a look at some of our criteria. Of course, we've got dozens of lights that fit these qualifications, so keep them in mind while you shop and you're sure to come away with a flashlight that you can trust all day every day, even when you're away from the comforts of home.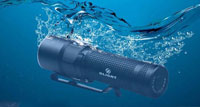 Water Resistance:
Whether you're looking for a
headlamp
, a
lantern
, or a
hand-held light
, if you're going to take it camping, you need to make sure it can withstand the basic rigors of outdoor use. Water resistance is key for the obvious reasons of keeping it useable in the rain or by the lake, but a light with a verified water resistance rating is also a good indicator of quality construction.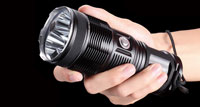 Comfort:
There are enough uncomfortable aspects of camping - don't let your gear contribute. A properly designed headlamp should feel snug without rubbing after extended use, a handheld light should feel natural in your hand, and a lantern should offer a variety of positioning options without becoming too bulky. And speaking of bulky...
Size:
We're not putting together a list for serious backpackers here. Some of these lights are perfect for an extended hike into the back country, but we can get into that application in a later guide. With that said, even casual hikers and campers need to minimize their bulk. Whether you're camping out of your car, an RV, or your tent, space is always a valuable commodity.
Top 5 Recommendations: