Welcome back! We saved your shopping cart for you:
View Cart
The Best: Camping Light
What are the best flashlights, headlamps, and lanterns to take Camping?
Battery Junction's Guide To Buying the Right Light for your Next Outdoor Excursion

Nothing beats spending some time in the great outdoors. But getting away from civilization means you've got to plan ahead for when the sun goes down. There are a variety of lighting options to keep you out of the dark at your camp site; from lanterns that can light up a tent or picnic table, to headlamps and compact everyday carries that will help you find firewood and trails, to some of the brightest searchlights in the world that can turn night to day, BatteryJunction.com has everything you need to keep the night alive.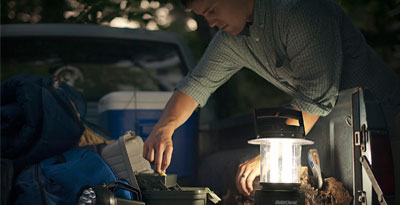 Below we've put together a list of our favorite lights to take camping. We're not saying you need to have all of these lights for a camping trip, but they each have their own strengths that can brighten up your time in the woods.
What to Look For:
We carry a lot of different lights here at BatteryJunction.com and there are plenty that would make excellent additions to a camping trip. Below we've put together a list of our favorite lights for the great outdoors, but first let's take a look at some of our criteria. Of course, we've got dozens of lights that fit these qualifications, so keep them in mind while you shop and you're sure to come away with a flashlight that you can trust all day every day, even when you're away from the comforts of home.
Water Resistance: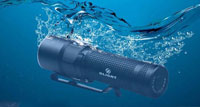 Whether you're looking for a headlamp, a lantern, or a hand-held light, if you're going to take it camping, you need to make sure it can withstand the basic rigors of outdoor use. Water resistance is key for the obvious reasons of keeping it useable in the rain or by the lake, but a light with a verified water resistance rating is also a good indicator of quality construction.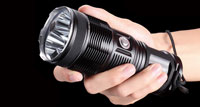 Comfort:
There are enough uncomfortable aspects of camping - don't let your gear contribute. A properly designed headlamp should feel snug without rubbing after extended use, a handheld light should feel natural in your hand, and a lantern should offer a variety of positioning options without becoming too bulky. And speaking of bulky...
Size:
We're not putting together a list for serious backpackers here. Some of these lights are perfect for an extended hike into the back country, but we can get into that application in a later guide. With that said, even casual hikers and campers need to minimize their bulk. Whether you're camping out of your car, an RV, or your tent, space is always a valuable commodity.
Top 5 Recommendations: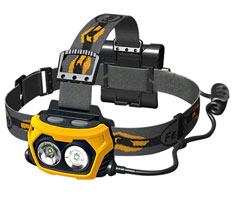 We had a tough time picking just one light to name the best camping light. Like we said before, each style of light offers its own advantages and disadvantages as far as power, portability, and practicality go. Even so, for our money you can't beat a good headlamp on a camping trip and you can't find a much better headlamp than the Fenix HP25. It has two separate reflectors each with their own XP-E LED. One reflector offers a more focused and farther throwing beam, while the other is tailored to a broader flood. Together the Beams produce a 360 lumen beam with both a far-reaching projection and adequate peripheral lighting. Tough materials, an IPX-6 Water resistance rating, and an ergonomic strap and battery pack make this a truly top-of-the-line headlamp.
Turbo
180 lumens
4.66 hours
High
90 lumens
10.5 hours
Batteries
4 x AA
Alkaline or NiMH
Key Features
Amazing Versatility
IPX-7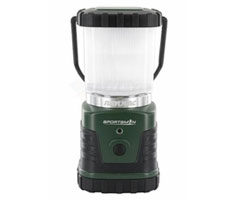 This lantern is bright, tough, and versatile. A low mode allows the light to be used in close quarters without blinding your tent-mate and a high mode is bright enough for lighting up a workspace. The shroud comes off easily to add intensity for a larger area of illumination, and a hook in the bottom allows you to hang the Sportsman Lantern overhead. The rubberized plastic body can withstand impacts and moisture. We love taking this lamp to the great outdoors and we appreciate the versatility of a lantern in the home as well. After Hurricane Sandy, a number of BatteryJunction employees went home with these lanterns to keep them out of the dark during the emergency.
Key Features
Best Lantern
Water Resistance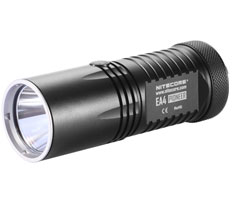 We knew we'd love this light the moment we saw it. Since its release it has become immensely popular and with good reason. The Nitecore EA4 is powered by 4 AA batteries, and while we love a good CR123 flashlight, the AA power source makes running this light cheap and practical, especially when you've got other AA devices in your camping pack. The maximum output of 860 lumens is more than enough for lighting up your work area while you build a fire or set up your gear. An IPX-8 water resistance rating means the EA4 can be submerged in water up to 2 meters, and the aluminum body is tough enough to beat up and knock around without concern.
Turbo
860 lumens
1.75 hours
Batteries
4 x AA
Alkaline or NiMH
Key Features
High Performance
IPX-8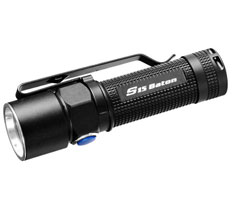 Here's another practical AA powered light, this time in the form of a compact everyday carry. Olight's S series of flashlights Utilize a single Side switch for quick and easy activation and mode selection. The Olight S15 uses just one battery though it can be fitted with optional tube extenders to increase its capacity to up to three AA's. The 280 lumen high mode is more than enough to light up the trail so you can find your way to camp or collect firewood before dinner. We especially like the tiny size that's small enough to fit in your pocket or be stowed neatly in your pack without contributing too much to heft or volume.
High
280 lumens
0.75 hours
Moon
0.5 lumens
360 hours
Batteries
1 x AA
Alkaline or NiMH
Key Features
Every Day Carry
IPX-8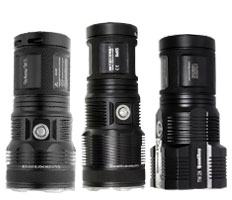 OK we know we said AA flashlights are practical and economical for camping but we couldn't put together a list of camping lights without including this family of unbelievably bright searchlights from Nitecore! And we mean REALLY bright! The 860 lumen EA4 listed above is impressive for sure, but wait until you see the beam from the 3500 lumen TM26. There's also the 2000 lumen TM11 and the 2500 lumen TM15, all featuring an incredible camera-shutter style interface and relatively compact sizes given their massive outputs. These lights aren't just all big outputs either. They're all constructed from ultra-strong anodized aluminum, they all feature IPX-8 water resistance ratings, and they're all powered by ultra-efficient and rechargeable li-ion 18650 batteries (As well as primary lithium CR123's). A variety of output modes allows you to tone down the light-show for close-quarters illumination.
TM26
Turbo
3500 lumens
0.75 hours
High
1700 lumens
2.5 hours
Med
540 lumens
8.25 hours
Batteries
4 x 18650
8 x CR123A
Key Features
Ultra High Performance
IPX-8
TM15
Turbo
2450 lumens
1 hours
High
1300 lumens
3.2 hours
Batteries
4 x 18650
8 x CR123A
Key Features
High Performance
IPX-8
TM11
Turbo
2000 lumens
1.25 hours
Batteries
4 x 18650
8 x CR123A
Key Features
Affordable High Performance
IPX-8
Join Us!
• Monthly Deals
• Early Access to Promos
• Member's Only Discount Codes
*We respect your privacy and will not share your address.