Combo: Titanium Smart Fast 16-Bay Charger + 16 AA and 16 AAA Sanyo Eneloop Low Self-Discharge NiMH Batteries
Usually ships the next business day
Battery Junction 30 Day Warranty
Every Order Ships Directly From The United States
Authorized Dealer For All Products Sold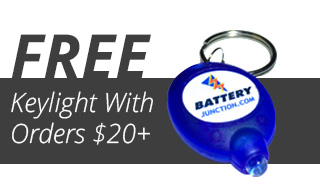 Description
Using rechargeable batteries can save the average household around $100 a year. And now with this special combo package you can save even more money when you buy batteries with your battery charger.
The Titanium MD-1600L is the ultimate battery charging station. Now you can charge sixteen Ni-MH AA or AAA batteries at the same time! This battery charger even has integrated USB ports so you can charge you portable MP3 players, phones, iPods and iPhones into the charger while you charge your batteries. It even allows you to charge on the go using the included 12V car plug adapter, a must for any car trips or motor camping!
The Titanium MD-1600L battery charger has a backlit LED indicators to indicate the charge level of battery. The MD-1600L has easy-to-read LCD screens with indigo backlights that show you a battery icon for each cell. Each channel is represented by its own battery icon made up 4 'bars' that indicate charge percentage (25/50/75/100%). The smart circuitry will detect when the battery is charged and automatically switches to a trickle charge. This intelligence keeps your batteries from getting overheated while charging, which maximizes the life of your cells. This also allows you to charge a mixture of batteries at the same time, from AA's to AAA"s, all of which can have a different charge state. It also has integrated Battery Conditioning; it discharge and charges your batteries at the press of a button restoring your batteries to their optimal condition and eliminating any memory effect.
This special combo package comes with the start-of-the-art 16 bay Titanium Innovations MD-1600L AA/AAA battery charger plus 16 x Sanyo Eneloop LSD 2000mAh AA batteries and 16 x Sanyo Eneloop LSD 800mAh AAA batteries. Low Self Discharge keep their charge longer than most rechargeable batteries so they are good to go even after sitting on your shelf for a while. These eneloop batteries can be recharged up to 1,000 times and maintain their charge even in extreme temperature conditions. These AA and AAA batteries are designed for enhanced performance in high drain devices such as digital cameras, CD players, portable audio devices, hand held games, 2-way radios, PDAs, and other portable high drain digital electronics.
Charging Times:
| | | |
| --- | --- | --- |
| Capacity | Type Ni-Mh | 1-16 Cells |
| 850 mAh | AAA | Approximately 4.7 Hours |
| 1000 mAh | AAA | Approximately 5.6 Hours |
| 2000 mAh | AA | Approximately 5 Hours |
| 2500 mAh | AA | Approximately 6.3 Hours |
| 2700 mAh | AA | Approximately 6.8 Hours |
Discharging Times:
| | | | |
| --- | --- | --- | --- |
| Capacity | Type Ni-Mh | Current (mA) | 1-8 Cells |
| 850 mAh | 200 | AAA | Approximately 4.25 Hours |
| 1000 mAh | 200 | AAA | Approximately 5 Hours |
| 2000 mAh | 200 | AA | Approximately 10 Hours |
| 2500 mAh | 200 | AA | Approximately 12.5 Hours |
| 2700 mAh | 200 | AA | Approximately 13.5 Hours |
Click here for manufacturer's data sheet
Features and Specifications of Sanyo Eneloop 2000mAh LSD AA Batteries:
Immediately usable new rechargeable battery
Sanyo Eneloop Batteries can replace alkaline batteries for all your needs and can be used in any application where AA batteries are needed.
Extremely Low Self Discharge
High performance even at low temperatures down to 10 °C during your winter vacation
No Memory Effect - Recharge at any time.
An Environmentally-friendly product right from the battery to the packaging
Comparatively more powerful and longer-lasting than dry cell batteries and superior low-temperature electrical discharge performance
New and Improved! Can now be charged up to a 1500 times.
Economically more efficient than dry cell batteries, eneloop can be used 1000*1 times over. Also, no need to worry about memory effect.
eneloop is a state of the art Ni-MH battery which can be charged like any other Ni-MH battery.
Can be charged by using any good quality NiMH Battery
Dimensions: 14.35 mm (diameter) X 50.4 mm (height)
Weight: Approximately 27g
Warranty: 1 Year by Sanyo
Made In Japan
Features and Specifications of Sanyo Eneloop 800mAh LSD AAA Batteries:
Typical capacity is 800mAh, minimum capacity is 750mAh
Immediately usable new rechargeable battery
Sanyo Eneloop Batteries can replace alkaline batteries for all your needs and can be used in any application where AA batteries are needed.
Extremely Low Self Discharge
High performance even at low temperatures down to 10 °C during your winter vacation
No Memory Effect - Recharge at any time.
An Environmentally-friendly product right from the battery to the packaging
Comparatively more powerful and longer-lasting than dry cell batteries and superior low-temperature electrical discharge performance
Can be charged up to a 1000 times.
Economically more efficient than dry cell batteries, 'eneloop' can be used 1000** times over. Also, no need to worry about memory effect.
eneloop is a state of the art Ni-MH battery which can be charged like any other Ni-MH battery.
Can be charged by using any good quality NiMH Battery
Warranty: 1 Year by Sanyo
Made In Japan
Kit Includes:
1 x Titanium Innovations MD-1600L Smart Fast 16 Bay AA/AAA Battery Charger
16 x Sanyo Eneloop LSD 2000mAh Ni-MH AA Batteries
16 x Sanyo Eneloop LSD 800mAh Ni-MH AAA Batteries
Reviews
Combo: Titanium Smart Fast 16-Bay Charger + 16 AA and 16 AAA Sanyo Eneloop Low Self-Discharge NiMH Batteries
Combo: Titanium Smart Fast 16-Bay Charger + 16 AA and 16 AAA Sanyo Eneloop Low Self-Discharge NiMH Batteries
$122.25
This Item Qualifies For

FREE SHIPPING

In Stock
Top