This Item is Discontinued, however these items are available:
Free Shipping!
Fenix LD22 LED Flashlight with CREE XP-G2 S2 LED - with Black Finish - Uses 2 x AA
Item #:

FENIX-LD22-G2

Brand:

Fenix
Click to Enlarge Image
Usually ships the next business day
Battery Junction 30 Day Warranty
Every Order Ships Directly From The United States
Authorized Dealer For All Products Sold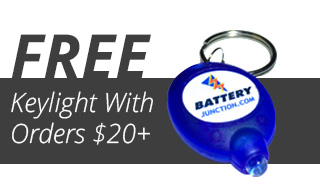 Description
This Fenix XP-G2
LD22
is more or less an extension of the LD12 flashlight as it uses not one, but two
AA batteries
to provide even more lumens for just a slightly larger size. Take this light with you whether you are climbing El Capitan or searching for that wrench you dropped under the hood of your hot rod. With more lumen outputs, a farther beam distance, and longer lasting battery life, this XP-G2
LD22
is definitely a step up from the smaller LD series lights. Durable, tactical, and bright, this light will go with you anywhere you take it, or rather, it will take you anywhere!
Power On
Light Up The Night
Running on just two
AA batteries
, this XP-G2
LD22
can produce a maximum output of 215 lumens for two and a half hours straight. 105 lumen High mode, 50 lumen Mid mode, and 3 lumen Low mode are included to give you multiple lighting options that adapt to different situations. The 215 lumen Strobe mode is great for getting attention, while the 105 lumen SOS mode will ensure that you always get noticed if you ever get lost. Just when you think the animal in the woods is too far away to see, turn this baby on Turbo mode to see as far as 113 meters! The CREE XP-G2 (R5) LED at the core of this light makes all the magic happen with minimal energy usage, making it a truly amazing flashlight that is worth the investment.
Tactically Advantageous
Versatility
Able to adapt to any situation, this XP-G2
LD22
never roll off flat surfaces and will stay securely in your hand with its precision engineered body style and knurling at the middle of the housing and the tail cap. Speaking of which, the tail cap switch enables single-handed operation for use in combination with a pistol. Easily clip this baby into your MOLLE webbing or pocket for fast access when you need it. Modes can be accessed through a simple interface button just below the crenelated bezel. Thanks to the intelligent memory circuit, this light will never forget the last mode you used, automatically saving it for the next time you turn it on.
Features:
LED: Premium CREE XP-G2 (R5)
Toughened ultra-clear lens with an anti-reflective coating
Integrated protection circuit protects against incorrect battery insertion
Digitally regulated output provides constant output for the life of the batteries
Tactical Tail switch for convenient momentary use
Convenient and easy to use side switch for one handed mode selection
Durable Aircraft-grade Aluminum body
Type III Hard Anodized (HA) Finish for superior scratch resistance
Anti-roll design combined with anti-slip design for superior grip and handling
IP-X 8 Rated Waterproof 2m for 1 Hour
Included Accessories: Holster, Body Clip, Lanyard, and Spare O-ring
Impact Resistant to 1 meter
Specifications:
Maximum beam distance: 370.7 ft (113m)
Runs on 2 x 1.5V AA (NiMH or Primary batteries ONLY) (not included)
Output mode/Run time:

Turbo: 215 lumens / 2.5 hrs
High: 105 lumens / 6 hrs
Medium: 50 lumens / 14.5 hrs
Low: 3 lumens / 150 hrs
Strobe: 215 lumens
SOS: 105 lumens

Dimensions:

Length: 6.14" (156mm)
Diameter: 0.85" (21.5mm)
Weight: 1.76oz (50g) (excluding battery and pocket clip)

MPN: LD22-G2
UPC: 6942870301709
Reviews
Fenix LD22 LED Flashlight with CREE XP-G2 S2 LED - with Black Finish - Uses 2 x AA
Blackhawkxx

South West, PA

5 Stars

I would recommend this item to a friend.




Well Made

May 17, 2015

This light seems to be well thought out. I like the dual function rear button (click on or push part way), the four power levels, the side button for the modes ( I don't like when you must cycle through all the different modes using the rear button), the power at the highest level, it is slim. The only con that I have found so far is the very flimsy holster that does not live up to the light. With all that said, I have not had this light too long, so, if it gives me years of service, I will be well pleased.

Pros:

Design

Cons:

Flimsy holster
Woody

Colorado

5 Stars

I would recommend this item to a friend.




Very Pleased!

April 2, 2015

First of all the shipping was very fast! It was delivered before I expected it. The light is exactly what I wanted. I'm using Eneloop batteries and it appears to be as bright as my Protac 2L. But best of all is the memory feature which gives the ability to select the mode and then use that mode with the "momentary on" tail switch instead of cycling through the various modes. Perfect! I was concerned it would be a little long, but it fits nicely in my pocket. Very thin, but knurled surface provides good grip.

Pros:

Memory Bright for a AA flashlight Nice selection of modes Momentary on switch Not too big, Not too small - just right

Cons:

None so far.
Matt

Michigan

5 Stars

I would recommend this item to a friend.




Fenix LD22 is a good light for non-flashligt people

March 5, 2015

I bought this for a friend who needed a light but was not willing to get into 18650s or 123 batteries. She really likes the user interface, especially the mode memory. I would recommend it to someone who is willing to work with lithium AA batteries. Fenix quality has really improved over the last few years.

Pros:

Easily available batteries and multi modes
Rich

San Diego

5 Stars

I would recommend this item to a friend.




My favorite 2xAA flash light.

February 25, 2015

I have used 4 other name brand 2xAA battery lights, though this is the one I prefer for sure. The LD22 looks and feels to be manufactured better than some of the others; better machining, anodizing, threading and switch. One of the others PowerTac T2A (IPX-8) already cut through its O-ring after changing the batteries twice. The LD22 is also smaller in diameter, shorter, weighs less and looks to be true IPX-8 water resistant. I really like the second switch for changing the light output modes, with the main tail cap switch only on and off. The light always turns on in the last output mode you used, even if the second switch is pushed when the light is off. The machined shape of the barrel and the knurling fits my hand better and feels better than the other 4 I have used. My only wish is, Maglite please make a light with similar features in the USA and I will buy it. I do have a MiniMag Pro .

Pros:

Size, Weight, Shape

Cons:

None
PMCD

Denver, CO

5 Stars

I would recommend this item to a friend.




One of the best

January 15, 2015

This was the first nice LED flashlight I owned, and is still one of the best I have today. For non-flashlight people (people who don't appreciate these beauties for what they are), this is the light to get. It's got great output, perfect mix of flood and spotlight, is thin, light, and easy to carry, feels quality, and takes AA batteries. If I had to take one light with me on a journey around the world, this would be it. You cannot go wrong with this light as a general all purpose flashlight. I'd recommend it over many, many other, brighter flashlights. The only flashlight I'd recommend over this if you're looking for powerful brightness in a general purpose flashlight is the PD35, also by Fenix. It's my true favorite flashlight, but is more expensive and doesn't take AA's. Some people don't like the mix of the tail cap button and the button near the head. I do, however. It removes any issue of having to remember strange morse code configurations to cycle through the modes. Yes, it can take a second to find the button near the head though. What I do is shift the pocket clip to align with the mode button near the head so that it essentially points you right to the mode button. In summary, best flashlight available in my opinion for general all purpose use - either for people that aren't flashaholics or for those situations requiring AA batteries instead of other types. Would be flashaholics should upgrade to the PD35.

Pros:

Super bright - don't let lumen count fool you Thin, light, easy to carry high quality AA batteries - available anywhere more flood than spot Simple on/off button and separate mode button - simple to use great all purpose flashlight

Cons:

mode button can be hard to find at night similar outputs can be had in smaller lights gateway into flashaholism
Jon

New port richey fl

4 Stars

I would recommend this item to a friend.




Near perfect flashlight

November 19, 2014

Over the last 5 years I have used and owned several versions of this light. Fenix uses the same head unit for 1 & 2 AA tubes so there's quite a few configurations and. Battery options, also in single AA I have used 14500 for a small size and high output powerhouse with no problems,and this light is very durable,I use it for fishing trips, metal detecting at night and as a great bike light with a handlebar mount......it's almost indestructable.....

Pros:

All the above !

Cons:

None
Rich

Pnta Gorda

3 Stars

I would recommend this item to a friend.




LD22

July 31, 2014

I bought a LD22 from a different website over a year ago. By the way it's my first, lets say cheap light that I've bought. I'm a surefire man. Anyway I've treated this light pretty rough just to see if it can stand up to being knocked around. So far it has. It has more than enough light for use with a handgun. The only reason I gave it 3 stars and not 5 is because of the modes. On my light I don't get the 3 lumen Low mode. I would say my first stage is around 40 lumens and each mode gets brighter. Its a good light but I hate the modes. Plus one cant have instant strobe so why have strobe at all?

Pros:

bright and well made.

Cons:

The modes. I'd rather have Strobe/Hi and a low setting or instant strobe. Yes I would recommend the light to a friend as long as they know that the Strobe is useless.
Dennis

Rochester NY

5 Stars

I would recommend this item to a friend.




Reliable and versatile

July 29, 2014

These Fenix LD22 lights are consistently good products. I have used several different versions, with slightly different specs, but they have one thing in common. They are solid lights. I find that low is useful most of the time, and these lights do go quite low. True, you need NiMH batteries to access low because they are designed to operate at around 1.2 volts. The 3 lumens is right for navigating a suddenly dark area--perfect for that shopping trip where the store loses its electricity. Higher modes are excellent for when needed. This is useful when working in dim areas, such as finding that spark plug or spare tire tools in the middle of the night. The brightest mode is fine for illuminating trails at night. The switch makes it a bit wobbly for standing on end, though. But, for finding those lost screws on the floor, high is fine. Compared to common lights, this is excellent. I have seen professional lights that just don't do what this light does. Lights used for law enforcement, fire fighting, professional cable installers, and people whose livelihood depends on seeing under hoods or in tight places are flimsy by comparison. Most of these have one setting--dim. They eat batteries, are bulkier, and the bulbs are always blowing. The Fenix LD22 series, on the other hand, is brighter when needed (though you can dim it as you see fit), is slim, uses reusable NiMH batteries (good for going green or saving money), and far more rugged. You are more likely to lose this light or get it stolen than to ruin it.

Pros:

Multiple brightness levels that are easy to select. Slim profile. Use of NiMH batteries allows saving money and the environment. The light is difficult to ruin and does not blow out bulbs. Perfect for road side emergencies or blackouts at the store.

Cons:

Using fresh alkaline or AA-size lithium batteries precludes using low mode until the batteries drop near 1.2 volts. This problem can be prevented by investing in NiMH batteries, which also saves you money in the long term.
Jack

Lynchburg, TN

5 Stars

I would recommend this item to a friend.




My Fav EDC

July 10, 2014

Fenix did a great job with this light. This upgraded LED is better than the last version. It has a powerful high mode, and I love that it will remember which mode I was last using.

Pros:

Many modes, comfortable grip, strong clip
Fenix LD22 LED Flashlight with CREE XP-G2 S2 LED - with Black Finish - Uses 2 x AA
$54.95
&

Free Shipping

on orders over $50*
Out of Stock
Top