This Item is Discontinued, however these items are available:
Free Shipping!
Klarus ST30 LED Flashlight - 1080 Lumens CREE XM-L2 LED - Uses 2 x 18650 Batteries
Usually ships the next business day
Battery Junction 30 Day Warranty
Every Order Ships Directly From The United States
Authorized Dealer For All Products Sold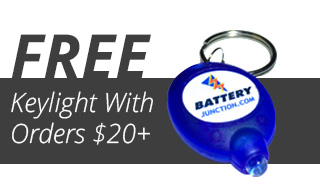 Description
The Klarus ST30 combines the practical interface of the ST series with the huge power of a full-sized light. Powered by 2 x 18650 batteries, the ST30 can generate up to 1080 lumens with an advanced CREE XM-L2 LED. The interface couples an easy-access tail switch with a comfortably placed side switch for simple activation and mode selection. High, medium, and low settings allow you to find the ideal illumination for your needs, while strobe and SOS functions allow tactical and emergency usability.
The tough aluminum body and stainless steel bezel protect intelligent circuits and an ultra-clear glass lens so you can rely on this light time and again, even after the tough punishment that outdoor lights endure. A standard tripod mounting point on the underside of the head adds a unique versatility to this light, allowing it to be mounted and used for broad hands-free area lighting.
Features:
Patented Tail-cap & Side Switch design, allowing easy access to power settings
Tripod mountable via the standard UNC 1/4-20 threaded mounting point
Stainless Steel bezel design protects the lens and reflector system from drops and impacts
Dual clip site design meets different demand
Intelligent control circuits balance brightness, run-time and heat emission for improved performance
Easy-access Strobe feature can activated at any time
Specifications:
LED: CREE XM-L2
Runs on: 2 x 18650' s or 4 x CR123A's (Batteries NOT included)
Output/Runtime:

High: 1080 Lumens/1.6 Hours
Medium: 215 Lumens/5.3
Low: 15 Lumens/77 Hours
Moonlight: 1 Lumen/680 Hours

Peal beam intensity: 19540 cd
Max beam distance: 306 yards (280 meters)
Dimensions:

Length: 9.2"(234mm)
Head Diameter: 1.7" (44.3mm)
Tube Diameter: 1" (25.4mm)

Weight (w/o Batteries): 8.29 oz. (235g)
Reviews
Klarus ST30 LED Flashlight - 1080 Lumens CREE XM-L2 LED - Uses 2 x 18650 Batteries
Robert

Pagosa Springs, CO

5 Stars

I would recommend this item to a friend.




Klarus ST30 LED Flashlight - 1080 Lumens CREE XM-L2

March 8, 2015

The Klarus ST30 has a lot going for it. Top illumination of 1080 lumens; medium of 215 lumens; low level 15 lumens and the Moonlight level at One lumen. Klarus claims that run time at the Moonlight level is 680 HOURS! I believe them, and it may be amazing to some that the two lowest settings of 15 lumens and One lumen are actually usable in a lot of situations. Can you imagine running a light for 680 hours straight? The ST30 has great throw and peripheral beam for hunting, camping fishing, search & rescue; you name it, good for every lighting chore. Some features not found elsewhere, like the 1/4 x 20 standard photo tripod screw mount and the two button system for utilizing the lighting levels. Tail cap switch can be used to turn the light fully OFF, so you can't inadvertently change/activate lighting levels accidentally. The ST30 is such a great light that after having one for a few months, I bought three more to spread around the house!

Pros:

May be tripod mounted May be mounted on gun with accessory mount that is available Excellent selection of lighting levels Long run times Great quality light

Cons:

none
Tony

Central Pennsylvania

4 Stars

I would recommend this item to a friend.




A great light for the price, with excellent quality workmanship

December 9, 2014

I just acquired one of these lights (actually two, with a 3rd on backorder, because I'm going to give it as a gift, or, more accurately, I'm going to give ONE as a gift and keep two for myself). First, Klarus quality is, imho, excellent. I've not found anything wrong with any of their lights, and I now own 4. The ST30 is, for the class it's in, a very slim light which could be carried in a (deep) pocket. That being said, I wish it came with a holster. I have mine in a Nite Ize LHS-03 Holster which doesn't provide complete protection for the light, but will hold it and can be clipped onto things (like a bag or belt). There are other lights which are in near, but higher price brackets which [slightly] surpass this light in beam concentration and brightness, even though their lumen numbers might be lower (real life vs. paper specs), such as the Nitecore MT40. There is a comparison video on YT https://www.youtube.com/watch?v=Z-P2aZjHcGk (youtubeDOTcomwatch?v=Z-P2aZjHcGk) by virtuovoice which compares the Klarus ST30, the Nitecore MT40, and a smaller Eagle Tac light. All three are good, and, for the price, I'd still take the Klarus ST30 because it is a lot of light for the money. The fellow in the video gripes about the ST30's deep reflector. Well, again, imho, they did that to get the diameter down to make the light slimmer and easier to carry. I think they succeeded. Most design elements have a trade-off in some way. He also states the Klarus has no memory. That is false, it does. You can set it to some be turned off/on by either switch, and with the side switch, you can configure it to come on in any of the 4 brightness modes. It is also a versatile light as it can use either the rechargeable 18650 batteries, or CR123A's. This light has a tripod socket. There are some camera lanyards that attach to a tripod socket, or at least there used to be, so maybe one of those might suit for a lanyard for this light too, if substantial enough and if you keep it tightened to you don't drop your light. For those folks who don't like to read directions, you will want to read the directions on how to set the modes in this light. Once you understand and practice it, you will like it because, as I said, you won't have to unnecessarily cycle through the levels to get what you want immediately. Now, one very important note: This light does not have a tailcap. I, being one of those who don't like to, at least immediately, read directions, spent about 4 minutes twisting with my bare hands (thank got I didn't get silly and grab pliers) trying to remove the tailcap that wasn't there. This light comes apart in the middle, with the battery compartment separating from the head. That's where you put the batteries in. Read your directions, and enjoy this great light. It will, as I saw written somewhere, show the night who's boss...

Pros:

Less expensive alternative Slim compared to others in class Versatility of using 18650's or CR123A's Can be set up to come on in any of the power levels without having to cycle through levels Innovative lanyard ring which rotates

Cons:

No holster, and hard to find one that would fit this light Lanyard ring doesn't look very substantial, but no problems actually encountered Complexity of mode control might baffle some people - not a simple light There are lights in this class with slightly better beams and power - may cost more though Lanyard which is included is not very substantial where it connects to the ring
Eric

Lansing, KS

4 Stars

I would recommend this item to a friend.




Awesome

December 4, 2014

A bit bigger than I expected, but a nice quality light at a great price. The two-button interface is great.

Pros:

Build quality, brightness
Klarus ST30 LED Flashlight - 1080 Lumens CREE XM-L2 LED - Uses 2 x 18650 Batteries
$59.95
&

Free Shipping

on orders over $50*
Out of Stock
Top