Welcome back! We saved your shopping cart for you:
View Cart
The Best: Lumens Per Dollar Flashlight
What Flashlight Provides the Most Lumens Per US Dollar?
Our Top 5 Favorite Bang for Your Buck Flashlights!
---
There are lots of things to consider before buying a flashlight. Size, battery type, and overall configuration should all be taken into account when trying to decide which device is right for you. This list focuses on two characteristics that we know are high on everyone's list of priorities: Brightness, and Value. First we calculated our top flashlights in the field of Lumens-per-Dollar*; which lights give you the most bang for your buck? Next we looked at the top 20 performers and chose our five favorite lights, keeping in mind that brightness alone does not make a great light. Of course we left lots of high performers out, but this list represents a variety of applications, from everyday carries, to search and rescue powerhouses.
Top 5 Recommendations: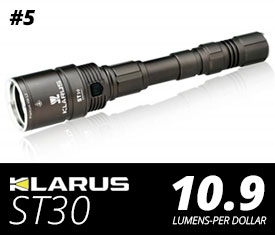 This light is perfect for hunters and campers who are looking for a full-sized flashlight that can light up a forest at the click of a switch. While it's a little long for most backpackers or hikers, its 9 inch body is still slim enough to keep neatly tucked in your pack. The ST30 runs on 2 18650's and produces 1,080 lumens, giving it just under 11 lumens per dollar.
Order Now ▶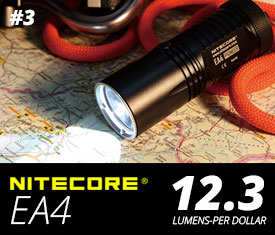 We love the power you can achieve with CR123's and 18650's, but there's no denying the practicality of a AA device. The EA4 uses four AA batteries to produce 860 lumens but still manages to maintain a package that is only about four and a half inches long. The compact size and widely available power source make this a great light for keeping in your car, or around the house for emergencies and blackouts. The EA4's bigger brother, the EA8 is another high-value AA device both come with a Neutral, or cool white tint for their LED's.
Order Now ▶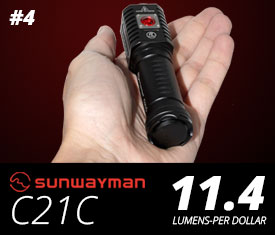 We've loved this light since the moment we first held it. At 4.21 inches long, the C21C is the shortest light on our list, yet manages to squeeze 830 lumens from a single 18650 battery. The compact size makes it practical as an everyday carry, and the auxiliary red LED on the side of the light's head allows you to preserve night vision. Both the white and red LED are accessed by the side switch and feature a variety of output modes.
Order Now ▶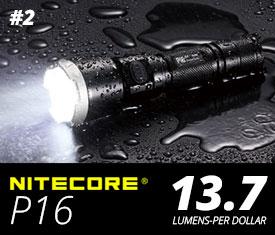 Nitecore's P16 offers the highest Lumens-per-dollar of any tactical flashlight. Featuring a stainless steel crenelated bezel, recessed tail-switch, IPX-8 water resistance, and an anodized aluminum body this light is rugged enough for the demands of police officers and military personnel. The P16 uses a single 18650 to generate 960 lumens in high mode. At just under six inches long, the P16 is a comfortable light that can be attached to a belt or pocket with the removable stainless steel clip.
Order Now ▶
We're suckers for monster searchlights here at BatteryJunction.com and while we know the SR96 isn't a practical light for everyone, we just couldn't make this list without including the SR96 from Olight. Its 4800 lumen beam comes from three advanced MK-R LED's. The eleven inch body is constructed from Ultra-tough aluminum and the head is specially engineered to maintain big outputs while dissipating heat. Best of all, the SR96 is built with an integrated charge port for its purpose-built 7.4 Volt battery pack.
Order Now ▶
---
We hope you have enjoyed our five favorite top LPD performers! Selecting just five was tough, and we're sorry to have left out so many incredible devices. You can see all 20 finalists below! Don't forget to keep checking in for more reviews and buying guides!
*Please Note - This guide was written January 2014. Prices are subject to change and will affect the lumen-per-dollar figures.
Posted by
BatteryJunction.com

on

January 9, 2014

| Share this article:
Top 20 Flashlights sorted by Lumens-Per-Dollar: