Malkoff Devices M61 P60 Style Drop In Flashlight Upgrade Engine - 325 Lumens - CREE XP-G LED, (3.4-9V Input)
Usually ships the next business day
Battery Junction 30 Day Warranty
Every Order Ships Directly From The United States
Authorized Dealer For All Products Sold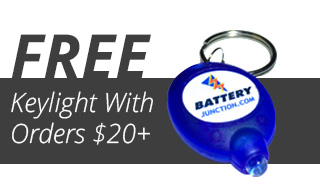 Description
Malkoff Devices M61 LED Upgrade
The Malkoff M61 P60-style drop-in LED upgrade fits SureFire 6P, 6Z, C2, and G2 flashlights as well as the Malkoff MD2 and Elzetta ZFL-M60 lights. A solid brass body acts as a heat sink for optimal heat dissipation so you do not need to worry about your flashlight overheating. The orange peel reflector has been designed to give a balance of throw and spill.
The M61 is made to run in lights using two CR123A batteries and operates with regulation within 3.4-9V. When the voltage falls below 3.4V, the light will run in direct drive. The bright output will blind anyone within a 100 foot radius or illuminate objects up to 350 feet away.
The M61 is available in a few different varieties. All versions are made in the United States with the same rugged, durable build-quality. The two main differences between the models are: the tint of the LED (either standard or neutral white), and the output/runtime. Models with lower output (and greater runtime) are indicated by an 'L'. The neutral white tint versions are denoted by a "W". This version is the M61, with the greatest brightness of 325 lumens but lowest runtime of about 2 hours.
A fitting ring is required if used with a shock-absorbing head (ie M2). An M61 Lens, or suitable equivalent, is required for use in the Malkoff MD2 and Elzetta flashlights.
Note: This mod will not work in Wolf Eyes Lights.
WARNING: This light is capable of causing eye damage at close range. Please use the light responsibly!!!
Note: This drop-in module was intended to operate at maximum brightness for tactical usage similar to the original setup. Operating the unit for more than 15 continuous minutes in plastic lights may cause damage to the drop-in module. This is not an issue in metal lights or in plastic lights with a metal head.
Specifications:
Input: 3.4- 9 V
Output: 325 Lumens
LED: Cree XP-G.
Draw: 650ma at 6 volts.
Runtime: 2 hours on 2 x CR123 batteries
Orange Peel Reflector
Designed for use in Malkoff MD2, Elzetta ZFL-M60, and SureFire 6P, 6Z, C2, M2 and G2 flashlights (may or may not fit other models)
Fits to the following lights: Blackhawk Falcata, Boker B0006, Brinkman Legend, Maxfire (LX models on both), Cabela's XPG (Xenon models), Dereelight CL1H (all Versions), DealExtreme {DX} HF-19, SKUs' ~ 1284, 4226, 14329, 14597, 14902, 15159 (DIY chassis), 15565, 15561 & OEMs, G&P T6, T9, T12, R12, Hellfighter X-4, X-8, Huntlight FT-01PJ, FT-01X SE (Luxeon versions on both), Kaidomain KD Tough, & OEMs, Leupold MX series w/ MX-100 bezel, M812, Mega CREE Q2, Nextorch (various models), Pelican M6 (newer version M6)...Slight modifications needed, PentagonLight X1, Xenon chassis {to be confirmed}, Pila GL2/3/4, Romisen RC-E4, RC-M4, RX-A, Smartfire A-1,T1, Solarforce L2, SF6, SF9, SF12, Spiderfire Q5, R2, X-O3, Superfire C1, see Ultrafire models, Surefire {SF} 3P, 3R, 6, Surefire 6P, 6PD, 6PL, 6R, 6Z, 7Z, 9P, 9Z, C2, C3, D2, D3, Surefire G2, G2L, G2Z, G3, G3L, GZ2, M2, Z2, Z3, Surefire KX4 option, Malkoff Devices M60, Malkoff M61, Various Weaponlight models, Tactical Operations Products Stryker (slight modifications necessary), Xenon models, Trustfire T1-Q5, TR-B1/2/3, TR-C1 & 2, TR-Q5, TR-C2, Ultrafire 6P, 9P, 12P, C1, Alpha-C1, L2, WF-501A/B/C/D, WF-502B/C/D, WF-503B
Keywords: P60, P61, P60L, P61L, P90, P91, P90L, P91L, Upgrade
Reviews
Malkoff Devices M61 P60 Style Drop In Flashlight Upgrade Engine - 325 Lumens - CREE XP-G LED, (3.4-9V Input)
Jon

Palm Harbor, Florida

5 Stars

I would recommend this item to a friend.




The Fort Knox of drop-ins

October 4, 2015

Works great in a custom light I built for my son. He uses it for night shrimping trips to the Florida Keys. Bright and great thermal management from massive heat sink.

Pros:

Runs cool and very high quality
Thomas

West Warwick, RI

4 Stars

I would recommend this item to a friend.




Bright Flashlight Upgrade

November 11, 2014

Ths is a great drop in head. I did have an issue with it, but it's most likely my fault. I had a light with a KX4 head (supposed to be the recoil version) to soften the blow from weapon mounted lights. However when I purchased the light it was advertized as a weapon light and was built a little different (like it had an xtra spring), it wasn't the same as the other style lights (it did drop right into the older textured 6P SureFire light. Again it works, and works well and worked in my older light, not sure if they changed the KX4's now vs the older ones, but it didn't work out in my case. I'm not as good as the guys on Candle power who can do anything with these, but this unit is built out of heavy brass, potted electronics and is bright.

Pros:

Bright Heavy Duty Potted electronics

Cons:

Didn't work in my one KX4 head
Malkoff Devices M61 P60 Style Drop In Flashlight Upgrade Engine - 325 Lumens - CREE XP-G LED, (3.4-9V Input)
$54.95
This Item Qualifies For

FREE SHIPPING

In Stock
Top