Welcome back! We saved your shopping cart for you:
View Cart
Nitecore Precise P12 (2015) Flashlight - CREE XM-L2 (U2) LED - Cool or Neutral White - 1000 Lumens - Uses 1 x 18650 or 2 x CR123A
Item #:

NITECORE-P12-XML2

Brand:

Nitecore
Click to Enlarge Image
Usually ships the next business day
Battery Junction 30 Day Warranty
Every Order Ships Directly From The United States
Authorized Dealer For All Products Sold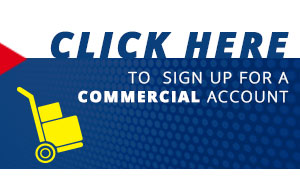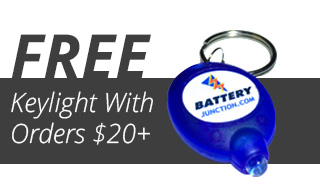 Description
Now Available With "Neutral White" LED! Light produced by a neutral white LED appears less artificial and more similar to sunlight or light produced by candles. Neutral white light is also perfect for film, especially outdoors, as it does not make natural colors and skin tones appear dull like with cool white light.
FEATURES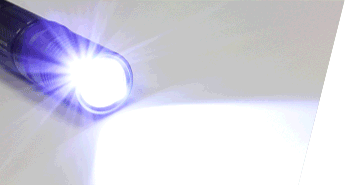 FOUR BRIGHTNESS LEVELS
Adapt to any situation
The Nitecore P12 features four output modes with setting designed to be ideal in its own way. The 1000 lumen high mode is bright enough for searching fields and vast expanses outdoors. The 210 lumen all-purpose mode is perfect for indoor and close-quarters use. Additionally, the P12 functions as a comfortable reading light with the 50 lumen low mode, or as a middle-of-the-night light with a 1 lumen firefly mode. These are just some examples of what this versatile light can handle with Nitecore's ingenious brightness scaling.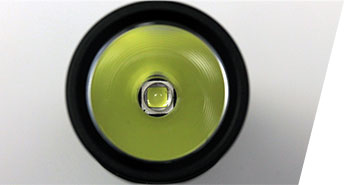 THE NEWEST TECH
The future is here
Using the newest CREE LED technology, the XM-L2, this flashlight achieves what was thought to be impossible - incredible output AND impressive runtimes up to 520 hours! The P12 also features next generation Precision Digital Optics Technology combined with Crystal Coating Technology to provide extreme reflector performance - achieving up to a 222 meter throw distance!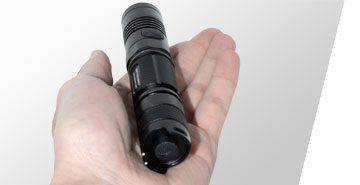 COMPACT & PORTABLE
Take it anywhere
The compact design fits comfortably in your pocket, backpack, belt holster, or anywhere else you keep your light. With advanced technology making devices smaller, Nitecore has been able to make the P12 not much bigger than the battery that powers it! At 5.47" long, it can take one 18650 or two CR123A batteries.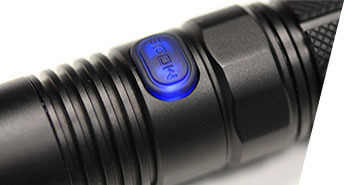 TWO BUTTON INTERFACE
Perfectly simple
The P12 just makes sense - turn the light on/off with the tail switch and change modes with the side switch. With a simple interface, there is no possibility of getting the wrong mode when you need it the most. Additionally, the side switch features a LED status indicator, warning you to replace or recharge your batteries when necessary.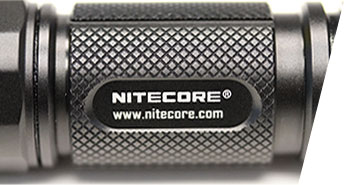 EXCELLENT CRAFTSMANSHIP
Powerful & Reliable
Constructed from aerospace grade aluminum with military grade HAIII hard-anodized finish, this flashlight is sure to last you a long time. The rugged construction allows this light to withstand drops up to 2 meters with ease. Additionally, the P12 employs silicone o-rings to achieve an IPX-8 water resistance so you don't have to worry about getting wet since this light can be submerged!
Specifications
Nitecore P12 2015 Edition LED Flashlight - 1000 Lumens - CREE XM-L2 (U2) LED - Uses 1x 18650 or 2x CR123A Batteries
By turning off the light, press and hold the side switch then simultaneously press down the tail switch, the side switch will blink to tell the battery voltage (accurate to 0.1V).
Second generation 'Crystal Coating Technology' combined with 'Precision Digital Optics Technology' provide extreme reflector performance
Side switch interface provides one-handed operation and easy access to all functions
Side switch features an indicator light which displays remaining battery power
High-efficiency regulation circuit provides unwavering output
High-efficiency circuit board provides up to 520 hours runtime on low
Intelligent memory function stores preferred brightness setting
Waterproof in accordance with IPX-8 (2 meters submersible)
Toughened ultra-clear mineral glass with anti-reflective coating
Constructed from aero grade aluminum alloy with HAIII military grade hard-anodized finish
Stainless steel titanium-plated clip and cigar ring, spare o-rings, tailswitch boot, holster, and lanyard included
Tail stand capability
LED: CREE XM-L2 (U2)
Runs on: 2x CR123A or 1x 18650 (Batteries NOT included)
Output mode/Runtime:

High: 1000 Lumens / 1 Hour 15 Min.
Mid: 240 Lumens / 6 Hours
Low: 70 Lumens / 28 Hours
Firefly: 1 Lumens / 520 Hours

Max Beam Distance: 232m
Peak Beam Intensity: 13,500cd
Dimensions:

Length: 5.47" (139mm)
Body Diameter: 1" (25.4mm)
Bezel Diameter: 1" (25.4mm)

Weight: 3.1 .oz (88g) (excluding batteries)
Specifications
Turbo
High
Medium
Low
Moonlight
Lumens:
1000
1000
240
70
1
Runtime (Hours):
-
1.25
6
28
520
Output Modes:
3+ Brightness Levels, Beacon, SOS, Strobe
Compatible Batteries:
1 x 18650, 2 x 16340, 2 x CR123A
Batteries Included:
No
Included Accessories:
Holster, Lanyard, Pocket Clip, Spare O-ring(s), Spare Tailcap Boot, Tactical (Cigar) Ring
Flashlight Usage:
Every Day Carry, Tactical
Throw Distance (Max):
232m
LED:
CREE XM-L2 U2
Switch Location:
Multiple
Product Certifications:
ANSI, IPX-8
Brand:
Nitecore
Warranty:
Battery Junction 30-Day Warranty
Return Policy:
Battery Junction Return Policy
Primary Material:
Anodized Aluminum
Product Weight:
3.1oz
Product Dimensions:
5.47" (L) x 1" (Head Diameter)1" (Body Diameter)
UPC:
6952506401390
MPN:
P12-SMO-XML2
Country of Origin:
CN
Reviews
Nitecore Precise P12 (2015) Flashlight - CREE XM-L2 (U2) LED - Cool or Neutral White - 1000 Lumens - Uses 1 x 18650 or 2 x CR123A
Steve Wirt

Virginia

5 Stars

I would recommend this item to a friend.




Wow! This light is VERY Bright!

June 25, 2016

Very High Quality Light and Extremely Bright too! All the modes work Perfectly and it uses rechargeable batteries! Great Price on it too! Thinking of getting another one I like it so much!

Pros:

High Quality Flashlight and a Very Good Price! Can be used as a Defensive Tool! On HIGH it WILL Temporarily Blind an Attacker!

Cons:

No Cons whatsoever
Michael

Lovettsville, Va

5 Stars

I would recommend this item to a friend.




Great light

April 19, 2017

Awesome light at a reasonable price. I also have the EC20 and frequently the light would turn on in my back pocket, not so with the endcap switch on the P12. Wish I had purchased this first.

Pros:

End cap switch.

Cons:

None so far.
Stephen Honaker

NC

5 Stars

I would recommend this item to a friend.




Great Light! I got the package deal.

April 11, 2017

I got the light with 2 rechargeable batteries and charger. Its a great light with features that I like such as strobe and SOS to get help if needed or distract an attacker. I like that it also takes CR123 batteries if you need them in an emergency and can't charge rechargeable batteries. Very bright light for the size but the dim setting comes in handy too.

Pros:

Bright, lite, feature packed.

Cons:

none noticed so far.
Ryan

Spring, Texas

5 Stars

I would recommend this item to a friend.




Love it and great service from Nitecore

March 23, 2017

The first light I bought had a faulty LED but no worries. Nitecore sent me out a new light prompty. It has been working great ever since I bought it over a year ago. I use it fairly often, nearly daily, and I've only put new batteries into it once.

Pros:

Long battery life, easy to use, doesn't roll due to the hex head design.

Cons:

It is a little hefty but that is compared to lights costing far more money.
Pete

North east

5 Stars

I would recommend this item to a friend.




Very Brite

February 10, 2017

Very Brite. Good recharging system is KEY

Pros:

Very Good engineering

Cons:

? not me?
Dale Y.

Albuquerque, NM

5 Stars

I would recommend this item to a friend.




Work Gear

January 24, 2017

This flashlight was bought for work on a Railroad crew. We often work into the night and this light is perfect with gloves on and stays bright for a long time. The button on the side is flawless for switching between brightness levels. The highest level works great for use as a spotlight and lowest for night time reading. It has been dropped a few times but the finish is tough and still looks new. Ir you're looking for light You won't regret buying this

Pros:

Comes with sheath,lanyard and anti roll collar

Cons:

non
David

Old Lyme, CT

5 Stars

I would recommend this item to a friend.




Great Light

January 17, 2017

Small very bright for its size. Like the features of having the 4 different light settings. It fits in your pocket if you don't like to use holder light comes with.

Cons:

Battery life does not last long on high power probably 1-2 hours at max.
Alan Legath

FL

5 Stars

I would recommend this item to a friend.




Great little light

January 16, 2017

Powerful when you need it, lower output for extended run time. Easy to use controls and a dual battery option.

Pros:

Easy to use controls. Dual battery option
Robert

Texas

5 Stars

I would recommend this item to a friend.




P12 (2015)

December 29, 2016

Good Flashlight

Pros:

small size,easy to carry,very bright light

Cons:

will get a little warm on bright
Rand

Vista, CA

5 Stars

I would recommend this item to a friend.




Two are Better Than One

December 7, 2016

Loved this light the first time I bought it. So... I bought another one! A lot of power in a small package.

Pros:

Light, powerful, battery charge lasts a long time.

Cons:

None.
Don

Pearl River, NY

5 Stars

I would recommend this item to a friend.




P12

November 22, 2016

I use this for work. Great all around flashlight. 1000 lumens to 1 lumens. Strong beam. I like that it can use 2 different types of batteries.

Pros:

Not to big...feels great in the hands. Uses 2 different types of batteries. 1 to 1000 lumens. Everyday carry, tactical. Holster. Lanyard
Patrick McCracken

California

5 Stars

I would recommend this item to a friend.




Awsome

November 14, 2016

GREAT LED. BRIGHT! I will not but any other then NITECORE.

Pros:

1000 L

Cons:

Gets hot
Martin

spokane, WA

5 Stars

I would recommend this item to a friend.




P12 great EDC light

November 6, 2016

Great small light with end cap switch that works on 18000 series batteries

Pros:

nice interface with side mode switch

Cons:

none that I can find
Keith

Charleston, WV

5 Stars

I would recommend this item to a friend.




Great flashlight.

October 21, 2016

It was a gift for my wife and she loves it, she carries it with her everywhere.

Pros:

Very bright.
Jeffery

Bourbonnais, IL

5 Stars

I would recommend this item to a friend.




excellent light

September 22, 2016

All aspects of this order went as expected. Excellent light.
michael

Pensacola, FL

5 Stars

I would recommend this item to a friend.




Power!

July 17, 2016

Great light for max power but changing to a lower mode is helpful for preserving night vision and battery life. Relatively light with 2x 3V batteries.
BOUZIOS@SBCGLOBAL.NET

West Dundee, IL

5 Stars

I would recommend this item to a friend.




BUY ONE TODAY

May 31, 2016

IT LIGHTS UP A WHOLE ROOM .A GOOD FLASHLIGHT FOR POLICE WORK OR SECURITY WORK
L C

new york

4 Stars

I would recommend this item to a friend.




extremely bright

May 10, 2016

extremely bright & rugged exactly what I needed only problem the belt clip is not properly secured.
Yenzy

Caguas, PR

5 Stars

I would recommend this item to a friend.




Awesome and super bright EDC light

March 17, 2016

I bought this to replace my OLIGHT i20 flashlight. It feels sturdy, it is super bright and the modes are perfect. I thought I wouldn't like the mode button on the front but its actually really convenient and useful. The light works best with a battery that can handle its load. It doesn't heat up as much as my OLIGHT did. It fits perfectly in my MAXPEDITION two magazine pouch.

Pros:

Sturdy Super Bright Great Modes Mode Button Long Lasting Easy to use

Cons:

none
JFR598

NorCal

5 Stars

I would recommend this item to a friend.




Great Light

February 26, 2016

Intense beam, good controls, appears well made. Will test it's waterproof capabilities later.
Martin

Oregon

4 Stars

I would recommend this item to a friend.




Nice light

February 12, 2016

Nice light--- only thing was it took 12 days to get-- that was a very big problem-if this is the normal shipping time I will order some where else

Pros:

good light

Cons:

Shipping time was to long- need not to use DHL
Dean

Wantagh, NY

3 Stars




Side switch, Location location location

January 27, 2016

My .$02 cents. Overall the P12 does put out a good light, however it is not a tight beam your not going to capture an object in a "beam". A major thing I find to be a bad design flaw especially if you wish a EDC light is you CANNOT find the soft rubber 'good grip' side switch to change power levels. And that's while not in a distress.. I "Do Not Recomend this light for Anything other than Home Use" . The power levels go from 1 - 75 - 240 - 1000 lumins. I think the jump from 75 to 1000 lumins should be more substantial, say 1-75- 500 -1000. I think the reason they did this is more for a WoW factor than anything else. Bottom line this is a light for the home, the back yard walking the dog, though it has a Strobe, SoS and beacon by the time you find the button and hold it down for the beacon to activate your assailant has their hands around your throat. If you want a good light with quick access to strobe look at the Nitecore P20 or P10 each have a high output "800 lumins" once you get this high 800 to 1000 there is really no discernible difference. Almost forgot use the 18650 battery it eats through the cr123's perhaps that's why they don't include a adapter sleeve. Hopefully this helps you.

Pros:

It takes 2 forms of battery's. 18650's and CR123's

Cons:

Beam, power levels And switch. My description explains it all.
Jeff

Maine

5 Stars

I would recommend this item to a friend.




Brightest high quality

January 25, 2016

I use this light in my Maine Guiding business. It is rugged enough to withstand the demands of guiding under all conditions and extremely bright slowing me to point out locations in total darkness to my sports.
Craig

Central TX

5 Stars

I would recommend this item to a friend.




Great light for the price

January 25, 2016

So for so good. Love the size and brightness of this light. If there is a complaint it only has three settings low,med high. Wished it had one more, but with that being said what a great bright light,perfect size easy to use and a five year warranty thanks to battery junction for having this light on sale.

Pros:

Great size and easy to use super bright

Cons:

Not a con but wished it had one more power setting
Earl

Albany, Georgia

5 Stars

I would recommend this item to a friend.




Daily Working Flashlight

January 18, 2016

A great flashlight for the industrial mechanic, electrician, welder, and inspector. I would recomend the use of a diffusion lens for welding as this will prevent spatter from sticking to the glass lens.

Pros:

Bright enough to show welding imperfections. Compact enough to carry on person or in an electrical pouch while working. The pocket clip is extremely useful in tight places to keep in the pocket with the clip outside the pocket. The price was extremely reasonable for the product. The case provided is also nice as it has a velcro fastener.

Cons:

Not one found as of yet.
stephen

knoxville Tennessee

5 Stars

I would recommend this item to a friend.




great light

January 5, 2016

excellent, powerful light

Cons:

you shipping is terrible!!!!!
Roger

Montgomery Il

5 Stars

I would recommend this item to a friend.




Great light

December 30, 2015

Very well made and extremely bright thinking about buying another

Pros:

construction and brightness
Chazzz

Huntsville, AL

4 Stars

I would recommend this item to a friend.




Very compact high brightness flashlight for everyday carry

December 18, 2015

I got this for my daily carry flashlight. I like that it can use the rechargeable 18650 battery or two CR123A. I also bought it because it has a mechanical tail switch which is quick and easy to find and use. And at 1000+ lumens it is super bright and yet small enough to easily carry in your pants pocket. The fact that it is small enough for everyday carry means that you will have it with you when you need it most.

Pros:

Can use either a single rechargeable 18650 Lithium battery or two CR123A batteries. If you use it much, the rechargeable 18650 is the way to go. Super bright in high mode and also has bright strobe mode - High and strobe are quite blinding and disorienting if shined in a person's face if you need that. Fairly small - about 1" diameter by 5.75 inches long. It's one of the brightest options for its size. It fits in my pants pocket. Modes - High brightness, two everyday brightness levels, and one low light plus strobe and SOS. Simple mechanical tail switch for on/off, separate mode switch.

Cons:

There are a few flashlights with similar capabilities and light output that are slightly smaller. The instruction sheet that comes with it is for an earlier version of this flashlight and has a couple of minor errors - Though this is quite simple to use and this isn't a big deal.
Mike

Harrisburg, PA

4 Stars

I would recommend this item to a friend.




Ordered 3, had to send one back.

December 17, 2015

I needed a new duty light for work. The issued light, a surefire momentary only light (not sure of model) was bright enough, but I hated the interface. I have owned Fenix lights, and this Nitecore P12 caught my eye. Videos show a good interface, small size, at least small enough not to get in the way if you need to drop it, let it hang with the lanyard and take care of business with another tool (pepper spray, or what not). I also purchased rechargeable 18650 batteries. Right away, I was in love. This light performs like none I have owned previously. This will light up the outside of a structure at a good distance, and illuminate it well. Good workmanship on the light, a good finish too. My only complaint is that I had to send one of the lights back. After using the light for a very short time, and demonstrating it to another officer in the strobe mode, the LED went. I tested the switch, which was still good, the batteries were showing the correct voltage, but the LED quit way to early in its life. Luckily, batteryjunction gave me no grief, and I am expecting a replacement shipped to me as soon as they receive the defective unit.

Pros:

Very bright, good run time for a light that bright. Good interface. Comes with a lanyard and tactical ring, which makes it easy re-gripping it without looking at it when hanging from the wrist lanyard.

Cons:

Got one seemingly defective unit.
Lee

Inverness, FL

5 Stars

I would recommend this item to a friend.




Rugged

December 16, 2015

Great flashlight. Dropped it on a tile floor, slight dent in tailpiece but the light still works great.

Pros:

Bright, small, included belt case is great for keeping it always with you.

Cons:

None
Bright Buys
$12.00

(216 Reviews)

As Low As: $10.86 Ea.

Free Shipping Over $50!

$9.90

(135 Reviews)

Options Available

Free Shipping Over $50!

$54.75

(14 Reviews)

Free Shipping Over $50!
Top