This Item is Discontinued, however these items are available:
Free Shipping!
Olight SR52 Intimidator Rechargeable Flashlight - CREE XM-L2 LED - 1200 Lumens - Uses 6 x CR123A or 3 x 18650
Item #:

OLIGHT-SR52-XML2

Brand:

Olight
Click to Enlarge Image
Usually ships the next business day
Battery Junction 30 Day Warranty
Every Order Ships Directly From The United States
Authorized Dealer For All Products Sold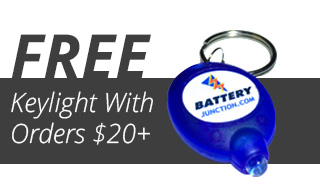 Description
SR52 Intimidator
Brighter and More Compact
Olight has done it once again and upgraded their hand-held SR Intimidator flashlight. The next generation SR52 is similar to the SR51, but has been modified to be over an inch shorter giving you an overall more balanced feel. Combine that with the intuitive interface and the new micro-USB charging port and you've got an impressive search and rescue tool in a relatively small package. The SR52 is the perfect light for search and rescue teams, outdoor adventures, marine navigation, camping, and so much more!
Lighting Technology
CREE XM-L2 LED
The SR52 comes equipped with the latest XM-L2 LED from CREE, which produces a massive
1200 Lumen output
while in high mode. While in low mode the SR52 can churn out 100 lumens lasting up to
40 hours
. Being that the SR52 is an extremely powerful search light, you can shine a beam 580 meters - farther than the length of six football fields! The interface is still as easy as ever to use, as you just cycle through the three different modes by pressing and holding the side-switch. The SR52 will automatically return you to the most recent brightness level, leaving you with no surprises. Double clicking the side-switch will activate strobe and holding the side-switch for approximately two seconds will activate the lockout feature keeping the light from accidentally turning on while traveling or storing.
Power
Rechargeable
The SR52 is an exceptional illumination tool and one of its greatest features is that it comes equipped with a built-in micro-USB charging port. That means you can use the included USB power adapter to charge the 18650 batteries without ever having to take them out. There is an LED indicator located next to the micro-USB port which lets you know the light's battery status. Should you not want to run your SR52 on rechargeable Li-Ion 18650 batteries, primary CR123A batteries can be used making this light truly versatile.
Features:
Side switch cycles through three brightness levels and activates strobe
Low battery LED indicator glows red when power is low
Micro-USB port allows rechargeable batteries to be recharged while inside the light
Built-in memory function automatically returns you to the last brightness level
From the off position, directly access the highest brightness level
Lock-out function to prevent accidental activation
Stainless steel bezel provides protection from drops
Aircraft-grade aluminum body with anti-scratch type III hard anodizing
Waterproof to IPX-8 standard (underwater 2 meters for 30 minutes)
Included Accessories: 2x spare O-rings, holster, USB power adapter, USB cable and lanyard
Specifications:
LED: CREE XM-L2
Runs on: 6x CR123A or 3x 18650 (Batteries NOT included)
Output mode/Runtime:

High: 1200 lumens / 4hrs
Mid: 600 lumens / 7.5hrs
Low: 100 lumens / 40hrs
Strobe: 1200 lumens / 8hrs

Peak Beam Intensity: 84,100cd
Max Beam Distance: 580 meters
Dimensions:

Length: 6.3" (161.5mm)
Bezel Diameter: 2.5" (63mm)

Weight: 14.3 oz (405g) (excluding batteries)
Specifications
Turbo
High
Medium
Low
Moonlight
Lumens:
1200
1200
600
100
-
Runtime (Hours):
-
4
7.5
40
-
Output Modes:
3+ Brightness Levels, Strobe
Compatible Batteries:
3 x 18650, 6 x CR123A
Batteries Included:
No
Included Accessories:
AC Wall Charger, Holster, Lanyard, Spare O-ring(s), USB Cable
Flashlight Usage:
Emergency Supplies, Search Lights
Throw Distance (Max):
580m
Switch Location:
Body
Product Certifications:
ANSI, IPX-8
Brand:
Olight
Warranty:
Battery Junction 30-Day Warranty, 5 Year Olight Warranty
Return Policy:
Battery Junction Return Policy
Primary Material:
Anodized Aluminum
Product Weight:
14.3oz
Product Dimensions:
6.3" (L) x 2.5" (Head Diameter)
UPC:
6926540918022
MPN:
SR52-INTIMIDATOR
Country of Origin:
CN
360° View
Just click and drag to rotate view!
Reviews
Olight SR52 Intimidator Rechargeable Flashlight - CREE XM-L2 LED - 1200 Lumens - Uses 6 x CR123A or 3 x 18650
Bryan

Alexandria, VA

5 Stars

I would recommend this item to a friend.




Benchmark 3x18650

June 13, 2015

The SR52 is a tank. It is the most well designed and built 3x18650 light Ive ever used. There are not to many lights in this class, but none of the competition comes close to this beast. Machining and anodizing is perfect. Grip texture is good enough to have a good hold on with wet/muddy hands. I don't know what the other reviewers are talking about when they say the switch is hard to find and has bad feel. The switch is large, covered in thick rubber and is NOT flat with the body. Finding the switch in the dark is simple. Going through the 3 output modes is as simple as can be just hold the switch down and the light scrolls through the power settings let go of the switch when you get to the setting you want. Double tap for devastating strobe. I also dont know what some of the other reviewers are talking about when they complain about the lanyard hole. First the lanyard hole is big enough to accept 550 paracord. Secondly its built into the side of the end cap its not built sticking out of the bottom. The beam profile is amazing for general purpose work that has double the range of a D cell Maglight. When Olight says 1200 lumens they mean it! The modes are very well spaced all are quite usable. Ive read in the reviews where a couple people found all the modes just being too bright to use. Well to each their own. When you are used to high output LED lights a 600 lumen medium mode isn't to bothersome. The 3rd mode is only 100 lumens which is still too much for some I guess. The point is this is one very serious pro grade high output LED light with killer range and a massively wide beam. Olight says 84,000 candela and independent testing says 101,000 candela. What I can tell you is this light throws its huge beam as far as my eye can see. With its 3x18650 power supply, the SR52 has an extremely impressive 4 times the average run times for lights of this output range. The built-in mini USB charging system works perfectly and allows you to either plug the included mini USB cable into the included USB wall adapter or 12v car adapter or even your laptop to stay charged on the go. Some of the other reviewers got the very first copies of the SR52, which did indeed have an issue accepting 18650's with flat or flatter than usual tops. Olight has since corrected this issue. The lens is surrounded by a blue O-ring that glows in the dark for a few minutes after you turn it off which is a really nice touch. The lens itself is anti-glare coated optical quality glass and THICK. The light is built well enough and has enough heft to use as a blunt weapon if need be and it will still work fine afterwards. Yes, it's pricey, but you are truly getting one of the best high output LED full sized lights there is. The included sheath is good, not great, but good. The flap that goes over the top of the light is way too long and when closed it leaves a huge open gap between the lens of the light and the flap. Rain, etc can still easily get on the lens. The light is SO good I am having a sheath custom fit and made for the light. I have had no problems with the sliding mini USB port door on the light others report. Olight SR52 is a modern classic. I have dozens of LED lights. I trade and sell all the time, but the SR52 is just to good to ever leave my collection.

Pros:

Far above average build quality 4 times the average run times Amazingly wide and useful beam profile Out throws a D cell Maglight by nearly 3x Built in mini USB charging system is first rate

Cons:

Sheath may be made of quality materials and is well made it just doesnt fit the light well enough to fully protect it
Donald

Belton, TX

4 Stars

I would recommend this item to a friend.




Love the light features, poor holster design

March 19, 2015

Love the features of this light, especially the use of a sliding door over the charging port instead of a rubber cover. Those covers usually get ripped off quickly. The output and throw are great, although the mid level is appears closer to the high than a true middle even though the mid lumens figure is half the high. Good fit in the hand and a good weight. I am using this light daily at my job and am mostly pleased so far. Holster design mimics smaller lights and does not work well for this light. The short body and relatively large head opening on the holster lets it twist and the flap comes nearly all the way off the face of the light. Hasn't fallen out yet but it's close. Holster diameter should be larger to fit the head with full height sides so light is fully enclosed once the flap is secured. Although I suspect if is a one-off failure, I need to mention that my light did not work when delivered. Having built my own lights in the past, I decided to fix it myself. Although all parts tested good individually when tail cap was removed, light remained dead once assembled. Cause appears to be the circuit not making connection through the tail cap as it is tightened down. Since tail board makes connection at both center spring and outer rim, suspicion is that body is just a hair short and tail runs out of threads before making connection. I was able to modify the light to make the connection and it has performed flawlessly ever since.

Pros:

Remembers last mode used Door over charging port unlikely to beak off Good fit and feel

Cons:

Holster holds light poorly No difference in feel at switch area
Robert

Pagosa Springs, CO

5 Stars

I would recommend this item to a friend.




Olight SR52 Intimidator Rechargeable LED Flashlight - 1200 Lumens

March 8, 2015

The Olight SR52 Intimidator is a great supplemental light for LEO operations. Some may find the barrel/battery handle to be large in diameter, but if so, they obviously never had to carry a D-cell light on the job. I have carried D-cells, from the chrome Ray-O-Vac to early Kel-lites, B-Lites and others, so find no difficulty at all in using the SR52 as an EDC. Though I do find myself using my Olight R40 Seeker a lot. But, for a single light to do everything the SR52 is hard to beat; huge illumination at 1200 lumens; good selection of lower levels for the routine where you don't have to press the pedal to the metal. Good convenience factor in using the micro USB port to charge batteries while in the light, using the included charger. I like the light so much that I bought a second one to always have one close by.

Pros:

Great beam hot spot with good corona for area lighting Knock out Strobe for the hard times Can tail stand for room illumination Great general purpose light for everyone Great supplemental illumination tool for LEOs that carry smaller light for routine jobs

Cons:

Some might disagree, but I find no Cons.
Mike

Northern Canada

4 Stars

I would recommend this item to a friend.




My choice for walking the dog.

January 2, 2015

I have been exploring the world of flashlights for about 2 years and have come to the conclusion that the wide spectrum of flashlights out there is a response to our needs. A transport trailer, a pickup, a sports car, and a motorcycle are all vehicles, but their design satisfies different purposes. The same applies logic applies to flashlights. The SR52 is an interesting product. It is too fat to satisfy my desires for a carry flashlight. It is so bright even at its lowest setting that it is almost useless as a close in camp light. I cannot even use it to see my watch during walks. It is too hard to find the on/off switch to be a good choice as an emergency light. As a search and rescue light it does a good job. The charging plug has a slide door protecting it but I find it is often open after handling the flashlight. Not so good in a wet muddy field. The light is too bright for close first aid work. It does do a great job as a "walking the dog light". I have a black energetic dog. This light makes it easy to see her out to about 100 feet and has enough spill to see where I am walking.

Pros:

Bright enough for country walks, but not so bright the neighbours complain. Nice mix of throw and spill for walking. Rechargeable. Seems to go on and on between recharges.

Cons:

Sliding cover over charging port opens too easily. Drop it in mud and you will discover how much of a problem this can be. Lack of a low setting makes it too bright for close work, camp use, or for treating injuries. Hard to find controls wearing gloves or in an emergency.
Lexie

Ft. laud

5 Stars

I would recommend this item to a friend.




1200 lumens flashlite with rechargeable built in.

December 14, 2014

I presently have a 250 lumen flashlight that uses single 18650 battery. I love the brightness of illumination, battery life and easy rechargeable in my charger. This time for my upgrade flashlight I wanted more lumens and the convenience of a built in USB charger. The throw and illumination with the lens of a long spot and some wide built into the reflector is nice mixture of lite. As the flashlight is still new, I do not know the battery life or rechargeable time.

Pros:

The convenience of a built in USB charger

Cons:

To change to different lite levels is a bit cumbersome.
NightThumper

Pittsburgh

5 Stars

I would recommend this item to a friend.




Excellent Upgrade

December 10, 2014

I've owned the SR51 for several years and was intrigued by the new SR52. This is an excellent update to an already outstanding light. It's just a tad fatter in the hand than the SR51, but feels great in my hands. I've never cared for how Olight attaches the lanyard to the bottom of the unit.

Pros:

1. Built in Charger 2. Erognomics 3. No separate battery holders for CR123a and 18650 4. Light Output 5. Supplied Case 6. Astestics

Cons:

Power button to recessed unlike SR51



dissapointed

November 25, 2014

It's a very good light but, it has a couple problems. It does indeed throw a little bit better the my old sr51. Though, one problem is the button is flat with the neck of the light and is very difficult to find by feel. Another problem I have had is that you have to be careful that the O-ring stays in place when you screw on the tail cap. My main problem with the light, however is that the contacts for the batteries are recessed so much so, that typical 18650s without large button tops will not work at all. With that being the case, I cannot use the best Samsung 18650 cells that i have. This is not the case with any other light that i have, and is unacceptable.

Cons:

poorly designed batter contacts.
OneTime

San Jose, CA

5 Stars

I would recommend this item to a friend.




Homerun!

July 29, 2014

Olight made several improvements to the SR51. They got rid of the dual 18650 battery magazine with soft contacts that eventually crushed and fails. They replaced that with three bores where you insert your own three 18650 batteries. It will even run on just two batteries. They added a sliding door with a micro USB charging port which makes it's very easy to top off the power in all three batteries. They made this light brighter with three brightness levels vs the two in the SR 51.

Pros:

Bright. Good size. Easy to find on/off switch. No battery magazine to fail like the SR51. Throws. Micro USB charge port.

Cons:

Price. No batteries included. Thrower with not much spill so definitely just an outdoor light, not great for clearing buildings or homes.
Olight SR52 Intimidator Rechargeable Flashlight - CREE XM-L2 LED - 1200 Lumens - Uses 6 x CR123A or 3 x 18650
$95.95
This Item Qualifies For

FREE SHIPPING

Out of Stock
Top