Welcome back! We saved your shopping cart for you:
View Cart
This Item is Discontinued, however these items are available:
Nitecore Precise P12 Flashlight - CREE XM-L2 (U2) LED - Cool White - 1000 Lumens - Uses 1 x 18650 or 2 x CR123A
Item #:

NITECORE-P12-SMO-XML2-OPT

Brand:

Nitecore
Click to Enlarge Image
Four brightness outputs that can adapt to any situation from close-quarters use to searching vast expanses
Slim and compact design fits perfectly in a pocket, clipped on a belt, or saddled into a holster
CREE XM-L2 LED provides not only incredible outputs but runtimes of up to 520 hours
Two button interface is simple and easy to use for tactical or household use
Usually ships the next business day
Description
FEATURES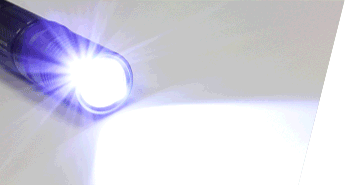 FOUR BRIGHTNESS LEVELS
Adapt to any situation
The Nitecore P12 features four output modes with setting designed to be ideal in its own way. The 1000 lumen high mode is bright enough for searching fields and vast expanses outdoors. The 210 lumen all-purpose mode is perfect for indoor and close-quarters use. Additionally, the P12 functions as a comfortable reading light with the 50 lumen low mode, or as a middle-of-the-night light with a 1 lumen firefly mode. These are just some examples of what this versatile light can handle with Nitecore's ingenious brightness scaling.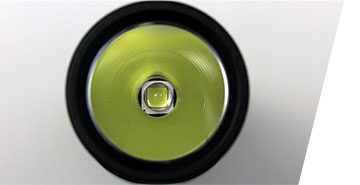 THE NEWEST TECH
The future is here
Using the newest CREE LED technology, the XM-L2, this flashlight achieves what was thought to be impossible - incredible output AND impressive runtimes up to 520 hours! The P12 also features next generation Precision Digital Optics Technology combined with Crystal Coating Technology to provide extreme reflector performance - achieving up to a 222 meter throw distance!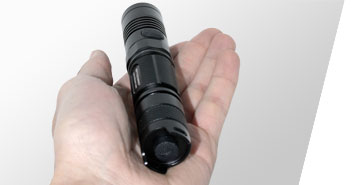 COMPACT & PORTABLE
Take it anywhere
The compact design fits comfortably in your pocket, backpack, belt holster, or anywhere else you keep your light. With advanced technology making devices smaller, Nitecore has been able to make the P12 not much bigger than the battery that powers it! At 5.47" long, it can take one 18650 or two CR123A batteries.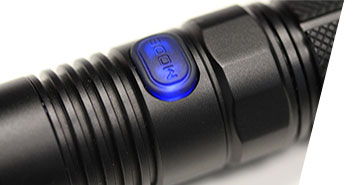 TWO BUTTON INTERFACE
Perfectly simple
The P12 just makes sense - turn the light on/off with the tail switch and change modes with the side switch. With a simple interface, there is no possibility of getting the wrong mode when you need it the most. Additionally, the side switch features a LED status indicator, warning you to replace or recharge your batteries when necessary.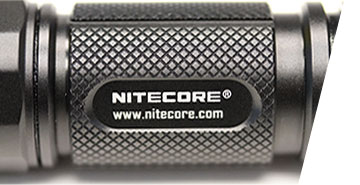 EXCELLENT CRAFTSMANSHIP
Powerful & Reliable
Constructed from aerospace grade aluminum with military grade HAIII hard-anodized finish, this flashlight is sure to last you a long time. The rugged construction allows this light to withstand drops up to 2 meters with ease. Additionally, the P12 employs silicone o-rings to achieve an IPX-8 water resistance so you don't have to worry about getting wet since this light can be submerged!
Specifications
Nitecore P12 LED Flashlight - 1000 Lumens - CREE XM-L2 (U2) LED - Uses 1x 18650 or 2x CR123A Batteries
By turning off the light, press and hold the side switch then simultaneously press down the tail switch, the side switch will blink to tell the battery voltage (accurate to 0.1V).
Second generation 'Crystal Coating Technology' combined with 'Precision Digital Optics Technology' provide extreme reflector performance
Side switch interface provides one-handed operation and easy access to all functions
Side switch features an indicator light which displays remaining battery power
High-efficiency regulation circuit provides unwavering output
High-efficiency circuit board provides up to 520 hours runtime on low
Intelligent memory function stores preferred brightness setting
Waterproof in accordance with IPX-8 (2 meters submersible)
Toughened ultra-clear mineral glass with anti-reflective coating
Constructed from aero grade aluminum alloy with HAIII military grade hard-anodized finish
Stainless steel titanium-plated clip and cigar ring, spare o-rings, tailswitch boot, holster, and lanyard included
Tail stand capability
LED: CREE XM-L2 (U2)
Runs on: 2x CR123A or 1x 18650 (Batteries NOT included)
Output mode/Runtime:

High: 1000 Lumens / 1 Hour 15 Min.
Mid: 240 Lumens / 6 Hours
Low: 70 Lumens / 28 Hours
Firefly: 1 Lumens / 520 Hours

Max Beam Distance: 232m
Peak Beam Intensity: 13,500cd
Dimensions:

Length: 5.47" (139mm)
Body Diameter: 1" (25.4mm)
Bezel Diameter: 1" (25.4mm)

Weight: 3.1 oz (88g) (excluding batteries)
Specifications
Turbo
High
Medium
Low
Moonlight
Lumens:
1000
1000
240
70
1
Runtime (Hours):
-
1.25
6
28
520
Output Modes:
3+ Brightness Levels, Beacon, SOS, Strobe
Compatible Batteries:
1 x 18650, 2 x 16340, 2 x CR123A, 2 x RCR123A
Batteries Included:
No
Included Accessories:
Holster, Lanyard, Pocket Clip, Spare O-ring(s), Spare Tailcap Boot, Tactical (Cigar) Ring
Flashlight Usage:
Every Day Carry, Tactical
Throw Distance (Max):
232m
LED:
CREE XM-L2 U2
Switch Location:
Tail and Side Switches
Product Certifications:
ANSI, IPX-8
Brand:
Nitecore
Warranty:
Battery Junction 30-Day Warranty, Nitecore 5 Year Warranty
Return Policy:
Battery Junction Return Policy
Primary Material:
Anodized Aluminum
Product Weight:
3.1oz
Product Dimensions:
5.47" (L) x 1" (Head Diameter)1" (Body Diameter)
UPC:
0
MPN:
P12-SMO-XML2
Country of Origin:
China
360° View
Just click and drag to rotate view!

Reviews
Wow! This light is VERY Bright!
June 25, 2016
Very High Quality Light and Extremely Bright too! All the modes work Perfectly and it uses rechargeable batteries! Great Price on it too! Thinking of getting another one I like it so much!
Pros
High Quality Flashlight and a Very Good Price! Can be used as a Defensive Tool! On HIGH it WILL Temporarily Blind an Attacker!
Underwhelming
July 31, 2020
This flashlight is underwhelming. I got this to temporarily blind an attacker. I suppose that's true if you're talking about a minute. This isn't going to help in that situation at all.
Very good flashlight.
May 6, 2019
Very happy with this purchase. Good customer service too. Thanks
By Brian
Pleasanton, California
Great all around light.
March 22, 2019
Well made light to use as a Go To Light. Purchased 2, one for the bedroom, one for kitchen.
Hear a noise outside at night, grab this and put 1000 lumens downrange. On low, 70 is more than enough for general use. Moonlight is great to keep your night sight vision. Simple to operate. On sale couldn't pass it up.
By Russell
Cowlesville, NY
My main "Go To" around the house!
January 18, 2019
Every time I need a flashlight, this is the one I grab. On high mode, it is plenty bright!
And, in combination with a Green Filter, also from Battery Junction, on low mode, I don't have to worry about kicking the cat lying on the floor by my side of the bed.
I also purchased a second P12 as a Weapon Light on my Keltek Sub2000 9mm.
Again, plenty of brightness for the job, and easy enough to switch to Strobe if necessary.
Love this light!
Q&A
14

Questions
&
14

Answers
Ed
from Macclenny, Florida asked:
April 4, 2015
Is this light compatible with most rechargeable batteries?
1 Answer
The P12 is compatible with rechargeable Li-ion 18650 and Li-ion 16340 (RCR123A) batteries.
Submitted by:
Customer Service
on April 7, 2015
Dave
from Boston, MA asked:
March 14, 2015
Is there a remote tail cap switch for this model?
1 Answer
Submitted by:
Customer Service
on March 16, 2015
Allen
from Idaoho asked:
December 18, 2014
Does the tail switch feature a momentary on or is it strictly push to turn on, push to turn off?
1 Answer
Yes, the P12 does have momentary on/off.
Submitted by:
Customer Service
on December 18, 2014
Alistair
from Cape Town asked:
November 28, 2014
Can you use 2x RCR123A with this torch?
1 Answer
Yes, you can use two RCR123A (16340) batteries with the P12.
Submitted by:
Customer Service
on November 30, 2014
SpacemanSpiff
from NC asked:
October 29, 2014
What's the difference between the 2015 version and the original?
1 Answer
Nitecore updated the 2015 P12 with a CREE XM-L2 (U2) LED to produce 1000 lumens versus the older CREE XM-L2 (T6) LED and 950 lumens.
Submitted by:
Customer Service
on October 29, 2014
chuck
from Chicago, Illinois asked:
September 23, 2014
Does the P12 come with a pocket clip that attaches to the body of the flashlight?
1 Answer
Yes, the P12 does include a pocket clip, as well as a holster, tactical ring, lanyard, spare tail cap, and spare O-rings.
Submitted by:
Customer Service
on September 23, 2014
Rich
from SWF asked:
September 17, 2014
If it has a strobe mode ? Will it stay in the strobe mode when you turn it off? I wish you guys would have a list of lights that have instant strobe mode or can be set in strobe mode. I bought a Fenix LD22 because it said it had a strobe mode. However you cant leave it in the strobe mode which is useless when one hand is holding a pistol. Please make a list for us guys who like the strobe mode and hold CCW permits .
1 Answer
Yes, If the light is turned off at the tail switch while in strobe mode, strobe will resume when the light is next turned on. SOS and Location Beacon modes have no memory function. Thank you for the input, we will take it into consideration.
Submitted by:
Customer Service
on September 17, 2014
Thomas
from Philadelphia PA asked:
September 6, 2014
Does the P12 also have a strobe function?
1 Answer
Yes, the P12 doe have a Strobe function.
Submitted by:
Customer Service
on September 8, 2014
Chuck
from Indiana asked:
August 6, 2014
What is the color of the light beam? How long does the bulb last?
1 Answer
The P12's CREE XM-L2 LED outputs a white-ish beam and provides up to 50,000 hours of burn time.
Submitted by:
Customer Service
on August 7, 2014
A E VOSSLER
from ST JOSEPH, MICH asked:
May 27, 2014
What is the size?
1 Answer
Dimensions: Length: 5.47" (139mm) Body Diameter: 1" (25.4mm) Bezel Diameter: 1" (25.4mm)
Submitted by:
Customer Service
on May 27, 2014
Kevin
from Carmel, NY asked:
May 9, 2014
Forward or reverse tail switch?
1 Answer
The P12 has a forward tail switch.
Submitted by:
Customer Service
on May 9, 2014
Dick
from USA asked:
May 9, 2014
Does this flashlight require a protected 18650 battery?
1 Answer
While the P12 does not require a protected 18650, it is highly recommended that you do use a protected 18650, so the battery doesn't over charge/discharge and damage the light.
Submitted by:
Customer Service
on May 9, 2014
Murray Walker
from raleigh, NCI asked:
April 3, 2014
If I buy the 18650 rechargeable battery, do I have to charge it separately, or is their a port on the flashlight to charge.I have a MH2C, which I love, but thought I may add this one.
1 Answer
The P12 does not have a charging port, so you will have to charge the 18650 separately.
Submitted by:
Customer Service
on April 4, 2014
gary arnold
from mobile alabama asked:
March 29, 2014
Does the holster have a belt loop or clip on ?
1 Answer
The holster comes with a belt loop and not a clip-on.
Submitted by:
Customer Service
on March 31, 2014
Bright Buys
$1.15

(254 Reviews)

As Low As: $1.05 Ea.

Free Shipping Over $50!
Top