Welcome back! We saved your shopping cart for you:
View Cart
This Item is Discontinued, however these items are available:
Nitecore SRT6 LED Flashlight - 930 Lumens - CREE XM-L2 LED - Uses 1x18650 or 2xCr123 - Black Finish
Item #:

NITECORE-SRT6-U2-BLK

Brand:

Nitecore
Click to Enlarge Image
Usually ships the next business day

Battery Junction 30 Day Warranty
Every Order Ships Directly From The United States
Authorized Dealer For All Products Sold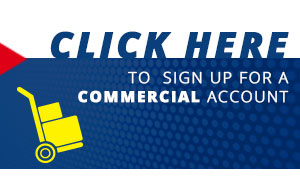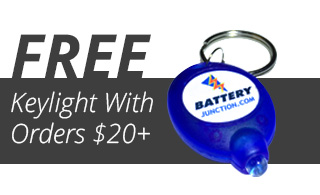 Description
Big Brother Packs a Punch
The
Nitecore SRT6
is a larger, streamlined version of the remarkable
SRT5
LED flashlight. The SRT6 trades the slim profile of its little brother for a more pronounced heat sink at the head in order to generate
930 lumens in turbo mode
. This light also does away with the auxiliary LED, reducing the number of modes you cycle through, and streamlining the interface. The SRT5 is a perfectly-sized Tactical flashlight that feels at home in hand or attached to the picatinny rail mount of a rifle or shotgun using
Nitecore's tactical weapon mount
.
More Than Tough
An advanced
XM-L2 T6 LED
is both powerful and efficient. The 930 lumen high mode is enough to light up a wide swath of open land outdoors, while the adjustable output can be toned down for indoor and close-quarters operation. The SRT6's military spec anodized aluminum body is resistant to scratches and heavy impacts, and is resistant to water damage at depths up to two meters for thirty minutes. The SRT6's aggressive profile and crenelated bezel make it ideal for self-defense. Adding to the tactical abilities, Nitecore also makes a
Remote Pressure Switch
and
Tactical Weapon Mount
to complete the package. The SRT6 isn't just tough, it's built for action.
Revolutionary Control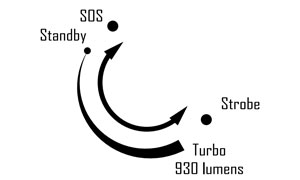 The SRT6 offers the same unique interface as its brothers in the SRT family. A tail-switch coupled with Nitecore's unique Smart Selector Ring optimizes the characteristics of a tactical flashlight with the usability of an everyday device. Click the tail-switch to activate the light, and the twist the ring, located towards the bezel, to gradually increase the output from .1 to a maximum of 930 lumens. One more click and you will access a blinding strobe, ideal for self-defense scenarios. The SRT6 does not include the blue and red LED's other members of the SRT family do, so if you're looking for the same ultra-functional interface with a more streamlined flow, the SRT6 is for you.
Features:
Purpose-designed for law enforcement, hunting and tactical applications.
The world's first line of flashlights to feature third generation SSR (smart selector ring) technology
Smoothly and rapidly select brightness levels and function by rotating a smart selector ring
Second generation of 'Crystal Coating Technology' along with 'Precision Digital Optics Technology' provide extreme reflector performance
High efficiency circuit board provides up to 200 hours runtime on lowest output level
Two rapidly switchable functions to select from
Multi-functional power indicator light displays low battery status
Patented spring-loaded impact absorption mechanism with reverse polarity protection
Stainless steel titanium-plated two-way clip
Stainless steel retaining ring protects core components from damage
Toughened ultra-clear mineral glass with anti-reflective coating
Constructed from aero grade aluminum alloy
Robust HAIII military grade hard-anodized
Waterproof in accordance with IPX-8 (two meters submersible)
Impact resistant to 1.5 meters
Tail stand capability
Also Available with Grey Finish
Specifications:
LED: CREE XM-L2 T6
Runs on: 2 x CR123A Cells or 1 x 18650 Button Top Battery (NOT Included)
Max Output: 930 Lumens (1.75 Hour Runtime)
Min Output: .1 Lumens (200 Hour Runtime)
Peak Beam Intensity: 17000cd
Max Beam Distance: 284 Yards (260m)
Dimensions:

Length: 6" (153mm)
Head Diameter: 1.34" (34mm)
Tube Diameter: 1" (25.4mm)

Weight: 5.11oz (145g)
Please note that this product only works using button-top batteries.
Specifications
Turbo
High
Medium
Low
Moonlight
Lumens:
930
930
-
0.1
-
Runtime (Hours):
-
1.75
-
200
-
Output Modes:
SOS, Strobe, Variable Brightness
Compatible Batteries:
1 x 18650, 2 x 16340, 2 x CR123A
Batteries Included:
No
Included Accessories:
Holster, Lanyard, Pocket Clip, Spare O-ring(s), Spare Tailcap Boot, Tactical (Cigar) Ring
Flashlight Usage:
Every Day Carry, Tactical
Throw Distance (Max):
260m
LED:
CREE XM-L2 T6
Switch Location:
Variable Ring
Product Certifications:
ANSI, IPX-8
Brand:
Nitecore
Warranty:
Battery Junction 30-Day Warranty, Nitecore 5 Year Warranty
Return Policy:
Battery Junction Return Policy
Primary Material:
Anodized Aluminum
Product Weight:
5.11oz
Product Dimensions:
6" (L) x 1" (Diameter)1.34" (Head Diameter)1" (Body Diameter)
UPC:
6952506400966
MPN:
SRT6-BLACK
Country of Origin:
CN
360° View
Just click and drag to rotate view!
Reviews
68% Recommend this product
(
13
of 19 responses)
By CelticCross74
Washington DC
January 22, 2016
Best of the SRT Series
First let me get something important out of the way. In independent testing with an 18650 this is a 780 lumen light. In order to get close to the advertised 930 lumen rating you need to use 2xRCR123 cells. I use Keeppower 700mah cells in my SRT6 and am getting 870-890 lumens. The upgrade in power source gives the light more range as well. The same is true for the SRT7 which I believe uses the same driver. Now onto the awesome SRT6. First it is built tough as nails. Secondly there are none of the awful underpowered secondary LEDs of the rest of the range. Just strobe, the variable ramp then SOS. I have had this light and its SRT7 brother since they both came out and I greatly prefer the SRT6. The beam out of the SRT6 does not have any secondary artifacts in it that the SRT7 does from secondary LED wells. The light has worked like a Swiss watch for me for a couple of years. Just choose your power source wisely.
Pros
Build quality no cheesy secondary LED's
Cons
need to use 2x power sources to get close to advertised output
By Steel
PA
July 27, 2015
Impressive
Extremely powerful. Separate on/off and function controls are the way to go. Good service from Battery Junction.
By Ronald Kennedy
Madison, NJ
June 14, 2015
Prefer SRT5; here's why...
Couldn't decide between SRT5 and SRT6, so I bought both. There is a noticeable difference in ultimate brightness, so if this is important disregard the rest. The dimmer ring on the SRT5 is easier to grasp since it is same width as barrel in your palm, while the ring in the SRT6 is on the much wider head making the thumb-forefinger grasp a little more awkward -- not a showstopper, but the enlarged head on the SRT6 makes it seem less balanced than the SRT5. A major difference is in the smoothness of the dimmer ring's motion. The SRT5 is very easy to turn clockwise and back and the dimming seems linear from firefly to full bright. The SRT6 ring is less smooth with jumps in brightness. I can get better linearity by using my other hand to turn the ring with precision but who wants to do that. Lastly, the SRT6 has a much brighter and tighter hot spot with a dimmer but adequate peripheral illumination. The SRT5 hot spot has a smoother transition to the peripheral illumination which I prefer for close up use looking at the ground in front of me. The SRT6 seems better for searching in distance.
Pros
good for distance searching
Cons
dimming ring moves unevenly not as good for close-up use not as well balanced as SRT5
By Kyle
SE Alaska
March 31, 2015
Excellent light, dynamic adjustment is exactly what I wanted
I purchased this light specifically because it doesn't lock me into 1, 3, 5 modes of lighting, where the low is usually not low enough, and/or the preset light level at startup isn't what I wanted, or the order of the clickies is not what I wanted, etc. So many lights out there are pre-programmed for some absurd definition of what one person thinks it should be. This light gives you all of the options, and lets YOU decide how it should run. YOU determine what light level it starts at, YOU determine what the light level you want to use, YOU don't have to click through 27 arbitrary settings to find the one you want. Far left setting is one blinky mode, far right setting is the other blinky mode, and everything in between is an adjustable light level to fit your needs at any given time, from very, very, very low, to extra bright. And it's all clicky-on for instantaneous light to check something briefly, or click all the way on to turn it on. The throw is pretty good, as is the flood for almost any general usage. If you need better throw or flood, it's probably because you need a specialty purpose, in which case you should find a specialty purpose light that does that specific thing, but I really don't think 95% of users are going to need that extreme for one function. This light is really the best all purpose, multi-purpose light I've found in three years of searching. The construction is top notch, the functionality is very broad, and yet very user selectable. The ONLY slight downside I can find is that the detentes at the far left and far right are easy to go past, it would be nice if the click from adjustable brightness level to blinky mode was a tad bit stiffer, but it really is a very small nit-picky detail, and in no way detracts from my appreciation of the light.
Pros
Everything. clicky-on SOS and Strobe blinky modes, found at the far left and far right adjustment positions in between the light is infinitely adjustable brightness from an ultra low mode all the way up to turbo, I think it goes from 0.1-930 lumens as stated by manufacturer solid construction easy handheld size 18650 or 2xcr123's lanyard, clip, two extra o-rings and a push button replacement come with the light XM-L2 T6 LED
Cons
None really. Only a minor complaint that detentes aren't as crisp and solid as I would like, so it's easy to run past change point into a blinky mode when I didn't intend to.
By PS
Quitman, TX
February 13, 2015
Easy to use
The light is easy to use. The throw is not as good nor is the beam as tight as I thought it would be with a 930 lumen light. The controls are tight and smooth. Over all it's a good light, just not the handheld spotlight I thought it should be.
Cons
Spot beam not very tight
By Stan
Atlanta
January 17, 2015
Great flashlight
The SRT6 is easy to use and the mode ring works much more efficiently than the rear button pushing ones. A very bright light with excellent controls for dimming and strobe. Don't believe you can find anything as good at this price point.
By Stan
Atlanta, GA
January 6, 2015
Great light
The SRT 6 is a powerhouse light with lots of flexibility. Nothing in this price range will challenge it in my opinion. The ring to change modes works well and is easy to use. If it has good longevity, it will be one of my best buys.
Pros
Built like a tank but not too heavy.
By christopher
Timonium, MD
December 29, 2014
Excellent flashlight
Super bright!
By AKFatBoy
United States
December 10, 2014
Exactly what I was looking for
Ordered this for my spouse, and now I'll have to get my own. The light is extremely well-made and durable. The selector ring makes for easy adjustment of beam strength without having to do the "tail-switch mambo" with your thumb in order to get to where you want to be. Super bright, and the head size on this model allows it to be used with existing flashlight retention holster; no worries it will slip through while banging around. Only issue I've had thus far is the noticeable heat generated during extended use, but in arctic conditions that could be a benefit. Summer-time could be a problem...remains to be seen.
Pros
Size/heft Beam strength Selector ring Ease of use
Cons
Heat builds quickly at full strength
By Thomas
Plainfield, IL
November 9, 2014
Absolutely love my STR6 !
Perfect duty light. Doubles as my EDC.
Pros
Reliable Nitecore product.
By South Texas Transplant
San Antonio, TX
September 26, 2014
Pretty good, overall - great for the price
When buying a flashlight for specialized purposes (I'll avoid the overused and meaningless advertising buzz word, "tactical"), it's always a tossup as to what the beam pattern (hot spot density vs. secondary corona), strobe rate, and user interface will be. The flashlight I was using has a large diameter lens / head (2.25"), is rated at 800 lumens and has a very concentrated hot spot with a long throw. I also is 9" long, takes 2 18650 Li-Ion batteries and is too big for EDC. The Nitecore SRT6 has a more diffuse hot spot - at typical diagonal room distances, it will completely flood the far corner. Haven't had a chance to try the beam pattern at extended distances yet, but will shortly. It also has a fast rate strobe. I prefer a slow rate strobe, but I'll work with it. It also came with an acceptable plastic grommet / collar, for those of us who use the Rodgers technique. The tailcap as it comes with the Nitecore completely renders the flashlight useless for this technique, as it has raised tabs around the activation switch. But Nitecore offers an alternate tailcap that eliminates the "ears" so I purchased that. I like the fact that the mode can be selected by rotating the ring instead of doing the tailcap tap dance to try and select the mode. I have found that under stress, flashlights that require you to do the tailcap tap dance just result in you turning the light on in a constant on mode that you don't want. The detents for the mode selection could be a little more pronounced, so the light is less likely to change modes when withdrawing it from a scabbard, etc. I just put black 100 mph tape around the ring and the forward barrel to prevent this. Time will tell if the magnetic switching system drains batteries while in the off position like the original Gladius did. The supplied nylon sheath is useless for a duty belt - I'm trying to locate a Kydex scabbard that will allow quick one handed access and replacement onto the belt. Probably the best scabbard of this type is the Blackhawk scabbard for the Gladius, but the Nitecore is just a little too big to fit it.
Pros
A lot of light for a single 18650 cell flashlight; user selectable mode via selector ring. Good size / output compromise.
Cons
Tailcap as supplied negates use of the Rodgers technique; soft nylon sheath is pretty useless for duty belt applications; will wear out quickly and requires two hands to put the flashlight back in to the sheath.
By JCB
Grafton, NH
September 9, 2014
Doesn't get much better.
Having bought this light six months ago I figured it was time to write a review for the Nitecore SRT6. This flashlight has become my primary carry light for work. I work nights and often have to check areas ranging from athletic fields to small offices in buildings and the occasional river front. I have grown to love the magnetic ring for the instant adjustment of the light output and it's quick mode selection. It has the lumen power for distance and the instant adjustment to low power when in an small inside area. I have found that with using li-ion 18650 w/3000-3400 mah the best in this light if you use the max output for any length on of time. CR123 cells work, but will not last that long compared to 18650's. This light has taken a beating and have yet to find any major faults. The black finish has held up well. The magnetic ring has remained smooth even after drops in the mudd and on the concrete. I have not even had to replace the rubber tail cap switch cover yet. The light pattern works well and is one of the best for its bezel size. The SRT6 doesn't feel to large and fits well in a loop holster made for a surefire P6.
Pros
Power and reflector good for distance. Instant and variable light output with magnetic ring. Battery life indicator small on bezel and works well. Can use 18650's Rugged (spring battery contacts help)
Cons
Short battery life with CR123's (if using higher lumen output settings)
By Edward
Round Rock, TX
May 21, 2014
really nice
I just got this, so these are my initial impressions. Wow, gorgeous color...that grey.. yes grey is very nice. I actually ordered the black, saw that grey was an option and asked Battery Junction to change the order. Great customer service. The light does not appear as bright as my other 900 lumen sun sticks. It also appears to be a thrower, as there is an intense center light with some spill in a nice pattern. The mode ring needs some tweaking, when you turn it far right, you get strobe. Next over is turbo, then the infinite adjustment ending in...of all things, blinking. I would prefer the blinking be on the other end so that when you pick up the light and start turning, it goes from dim to bright, to turbo, to sos/blinking to strobe. I think that is more logical
Pros
Grey color is awesome. Bright beam and nice pattern.
Cons
Not a fan of the mode ring. Could use improvement. The flashlight has a large head for its size. I'm hoping it dissipates heat well enough so it does not step down. I want constant turbo if possible. That is the selling point of these newer CREE LED's. bright light, bright light.
By Nicky
Modesto, CA
May 19, 2014
Good Size
I purchased one of these 2 weeks ago. Looks and functions well. The 123A rechargeable do not work on this unit. It heats up. The 18650 2600MA works great.
Pros
Size, Brightness, Durablity
Cons
Light beam is wide, loved to see the light beam shrink to a smaller spread.
By davekram
December 20, 2013
Very Good
I wanted some thing brighter for search & Rescue, and since I\'m retired, something wouldn\'t break the bank, and this does the job nicely. I wish it had more of a flood tho, but has plenty distance..
By Larry
October 11, 2013
SRT6 review
Very nice light! Was disappointed that the \"flat top\" 18650 battery\'s wouldn\'t work because of the design, but, I was able to get around that. By placing a small piece of brass shim stock on the contact point in the head, the 18650 battery will then make contact. Now I can still use my AW & Redilast battery\'s.
Great Light
Has SOS auto function and can dim the light like a home light on a dimmer to use lower light and strobe function. Nice competitive price compared to other more expensive lights. Only thing is I wish they had offered a rail mount for it.
SRT6 review
A good bright light source! But make sure you have 2 to 4 extra CR123A batteries on you, or a couple of rechargeable batteries 18650\'s on you, and you should be good for 2 to 3.5 hours of daylight at night! HIGH BEAM SETTING. This light eats batteries, but you get that bright light you want/need. Retired law-enforcement.
Awesome Light
Compact, extremely bright, and very good UI. Just be sure to use an 18650 cell. It makes all the difference. With the CR123s, I don\'t think it makes more than 700 Lumens. It is about as bright as a Surefire Lawman, but put an 18650 cell in it and it really comes alive. I almost bought an Olight M22, but chose this one because it can also stand on its tailcap. A great feature when you need it to light up a room.
Bright Buys
$12.00

(224 Reviews)

As Low As: $10.86 Ea.

Free Shipping Over $50!

$7.43

(143 Reviews)

Options Available

Free Shipping Over $50!

$40.00

(15 Reviews)

Free Shipping Over $50!
Nitecore SRT6 LED Flashlight - 930 Lumens - CREE XM-L2 LED - Uses 1x18650 or 2xCr123 - Black Finish
$94.95
This Item Qualifies For

FREE SHIPPING

Out of Stock
Top