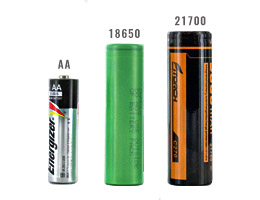 The size of a 21700 battery compared against a common AA (double-A) and 18650.
Dimensions
| | |
| --- | --- |
| Length | 70 mm |
| Diameter | 21 mm |
Specifications
| | |
| --- | --- |
| Voltage | 3.6V |
| Chemistry | Li-ion / IMR/INR/ICR |
| Max Discharge Rate | 5 – 45A |
| Capacity | 3000 – 5100mAh |
| Rechargeable | Yes |
Some also feature built-in USB charge ports
Replacement Sizes
21-70, 2170, 21700, NL21
What are 21700 Batteries?
The 21700 battery is a rechargeable lithium-ion cylindrical cell defined by its 21mm x 70mm dimensions. The 21700 is a fast-growing battery size as modern flashlights and other high-drain devices require increased battery capacities for extended runtimes. They are available with button-top or flat-top terminals, and may feature built-in USB ports for direct charging.
Are 21700 batteries safe?
High capacity lithium batteries usually require a PCB (Protection Circuit Board) or other kinds of protection (like a PTC aka Resettable Fuse, and a CID Pressure Valve) to limit over charging, discharging, high temperatures and internal pressure. Protected cells are great for high performance devices and electronics, and are commonly recommended or designed for specific compatible models to get the most consistent efficiency while keeping your device and battery safe with the on-board protection. While PCBs are needed in some batteries and uses, the more advanced Li-ion chemistries (IMR and INR Lithium-ion) are considered to be safer and do not require protection circuitry. Unprotected cells can be found in custom DIY projects and specialty electronic devices.
Battery Junction offers a wide selection of unprotected lithium and 21700 batteries, all of which come with a very specific warning about improper and proper usage on their listings. If you are planning on purchasing an unprotected battery, we highly recommend that you read this warning thoroughly.
How long does a 21700 battery last?
Most 21700 batteries can be recharged between 300 and 500 times before their capacity is depleted to a point where they are no longer operating efficiently. They also have a safe, stable shelf life of 3 to 5 years! Recharging your drained cells not only saves you money by not continuously buying new batteries, but it also helps the environment by reusing them again and again! By following manufacturer recommendations on charging and discharging, you can keep your battery running strong and often even extend the estimated lifetime. To keep your 21700 battery charged, we offer a large selection of smart chargers with various features and numbers of channels. Browse our selection of li-ion smart chargers today!
Does discharge rate/current matter?
Yes, many flashlights with high-lumen turbo modes require a minimum discharge rate to reach peak brightness. We list the discharge rates for all our 21700 cells when available, so check your device's user manual before buying a battery.
What is a proprietary battery?
Some flashlight manufacturers design batteries that only fit their own line of flashlights, usually achieved using a custom one-sided +/- terminal. These batteries will generally not charge other flashlights, so please check your device's user manual to make sure a battery is compatible.