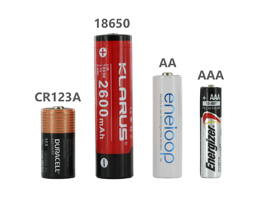 Here is an 18650 battery next to AA, AAA, and CR123A batteries.
| | |
| --- | --- |
| Length | 65 mm |
| Diameter | 18 mm |
Specifications
| | |
| --- | --- |
| Voltage | 3.6V / 3.7V |
| Chemistry | Lithium-ion |
| Discharge Rating | 1.5 – 4A |
| Capacity | 2000 – 3600mAh |
| Rechargeable | Yes |
18650 batteries can be charged with a compatible smart charger, while some feature a convenient Micro-USB or USB-C port.
Replacement Sizes
168A, 18650, 19670, Protected 18650, Unprotected 18650
What are 18650 Batteries?
The 18650 battery is a lithium-ion cell classified by its 18mm x 65mm size, which is slightly larger than a AA battery. They're often used in flashlights, laptops, and high-drain devices due to their superior capacity and discharge rates. 18650s come in both flat and button top styles, and usually boast 300-500 charge cycles. Learn more about 18650 batteries here.
What does 18650 mean?
The term '18650' refers to the measurement of the battery's size in millimeters, in this case, 18mm x 65mm. It has a similar naming convention to other rechargeable lithium-ion batteries, such as 21700 and 16340 cells.
What uses 18650 batteries?
A host of devices use rechargeable 18650 batteries, including flashlights, laptops, power banks, and even electric cars! Here at BatteryJunction.com we offer a wide selection of flashlights that are powered 18650 batteries, found here.
How do I charge an 18650 battery?
18650 cells can be charged with a smart charger. Some have a built-in USB port, with either Micro-USB or USB-C functionality. Batteries with a built-in charge port may be a valued choice for your average flashlight user because they are quick and easy to recharge. We recommend using a smart charger for those charging multiple 18650 batteries, as many allow you to check capacity and select different charge currents.
How long do 18650 batteries take to charge?
On average, it takes 4 hours to charge an 18650 battery, depending on the battery health and charger type. Avoid fully discharging 18650 batteries when you can, as this limits the ion transfer process when recharging and can reduce the overall battery capacity. Overcharging the li-ion batteries can put stress on them, causing damage long-term.
How long do 18650 batteries last?
Typically, rechargeable 18650 batteries have a shelf life of 3 years with a life cycle of 300-500 charges! However, it's worth noting that factors like extreme cold or heat can negatively affect the lifespan of an 18650 cell.
How can I tell if an 18650 is protected?
You can tell based on the inclusion of PCB protection. 18650 batteries with built-in PCB protection have an electronic circuit board in the battery that monitors performance parameters, which helps to prevent issues like over-draining, overheating, and short-circuiting.
Bare cells are both shorter and cheaper when compared to models with built-in PCB options, but require more caution when charging and discharging. If you're new to using lithium-ion batteries or just simply need an 18650 for your flashlight, we highly recommend a battery with built-in protection.