What are C Batteries?
The C battery is a standardized dry cylindrical cell defined by its roughly 50mm length and 26.2mm diameter. They can boast capacities upwards of 8,500 mAh, and are typically used in mid-drain appliances, large toys, and some searchlights. They also go by the names R14 and LR14. Learn more about C-cell batteries here.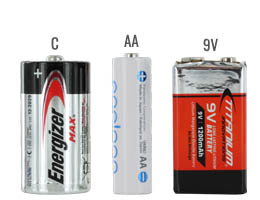 The size of an C battery compared against a common AA (double-A) and 9V battery.
Dimensions
| | |
| --- | --- |
| Length | 50 mm |
| Diameter | 26.2 mm |
Specifications
| | |
| --- | --- |
| Voltage | 1.2V, 1.5V, 3V, 3.6V |
| Chemistry | Alkaline, NiMH, LiSoCl2, NiCd, Carbon Zinc, Zinc Chloride |
| Capacity | 2500 – 8500mAh |
| Rechargeable | Yes, some |
Also sometimes called 26500 cells
Replacement Sizes
14A, 14D, 814, AL-C, AM2, C, E93, EN93, KC, LR14, LR14XWA, MN1400, MX1400, PC1400, R14, UM2
Frequently Asked Questions
Are there rechargeable C batteries?
Yes, rechargeable C batteries use NiMH (nickel-metal hydride) or NiCd (nickel-cadmium) chemistries and have a 1.2V voltage compared to the typical 1.5V. Always check with your device's user manual to see if a battery voltage or chemistry is compatible.
Do C batteries expire?
Yes, all batteries eventually expire. C-cell batteries have a range of shelf lives between 3 and 25 years, wholly dependent on the battery's chemistry and storage conditions. We list the rated shelf life on all our product listings when available so you can make an informed choice when buying spares or bulk cells. For more information, check out our battery expiration guide!
Are C cells and LR14/R14 batteries the same?
Yes, they are the same size of battery with different names. ANSI calls C-cells '14', and IEC standards call it 'R14'. The 'LR' in LR14 designates an alkaline chemistry.
Can C batteries replace D batteries?
No, unless you own a trusted battery-adapter sleeve specifically designed for that purpose. C and D cells have very different dimensions (C batteries are 26.2mm x 50mm, while D batteries are 22.3mm x 61.5mm). Do NOT use DIY (do-it-yourself) tricks and guides to modify batteries, as it can have dangerous results.
What C battery brand lasts the longest?
We don't play favorites at Battery Junction, and runtimes are often dependent on your device's battery drain and operating temperature. Typically, batteries with larger capacities (mAh) have longer overall runtimes. C cells tend to max out at 8,500 mAh, and you can filter our wide-selection of batteries by 'Capacity (mAh)'.
Do you offer bulk-pricing on C batteries?
Yes! A large selection of our batteries can be bought in bulk, letting you take advantage of huge discounts! You can filter our selection of batteries by bulk-eligibility, fill out a wholesale request form, or directly contact a member of our sales team now via phone or email!