Battery Junction's
GUIDE TO
LEP FLASHLIGHTS
Laser Excited Phosphor
By: The Battery Junction Team
Published: August 10th, 2021, 5:00pm EST
What is an LEP Flashlight?
An LEP flashlight is a device that uses Laser Excited Phosphor to produces strong, efficient light with an emphasis on beam distance. An LEP light can travel in a uniform beam over vast distances, much further than traditional LED lights can. This is becoming useful across many applications due to the light's ability to shine so far. LEP technology is already popular in applications such as automotive and projection display devices because of the clear, powerful beam it provides. With that in mind it's a natural leap to use LEP for flashlights, and we're confident that they will be along the new cutting edge in the coming years. Already we have a growing collection of LEP lights in our catalog!
How Does an LEP Flashlight Work?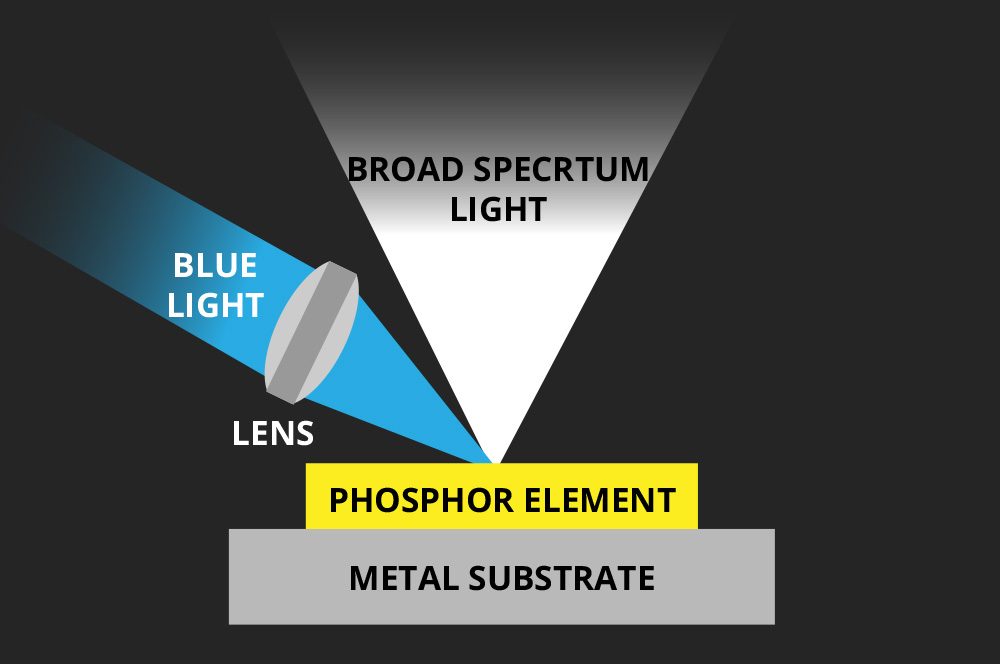 The process of creating Laser Excited Phosphor light involves emitting a blue laser through a focused lens. This laser hits a phosphor element backed by a metal substrate, which is then reflected converting the beam to a broad-spectrum light. The resulting beam is the telltale bright white and long reaching LEP light!
Making A "White Laser"
By definition a white laser is a misnomer, a laser being monochromatic and the color white being an amalgam. To achieve a similar effect blue-emitting LEDs, Indium Gallium Nitride (InGaN), along with yellow phosphor powder (most commonly Yttrium Aluminum Garnet (YAG) are used. This Phosphor-Converted LED utilized the blue light to excite phosphor powder, resulting in combined yellow and blue wavelengths to produce a broad spectrum white light.
A Note on Efficiency
One thing that sets LEP lights apart is the incredibly high efficiency of their emission, requiring less power for more light than other sources. This is due to the utilization of blue light. The typical drive current required to produce desired light intensities in blue lights is 4.2 mA, as opposed to 8.8 and 10.5 mA in red and green lights respectively.
Are LEP Flashlights Dangerous?
No, LEP flashlight do not present any unique dangers as a result of their light generation mechanism. These flashlights are no more dangerous than any standard LED flashlight. Just as with any strong light source, pointing it directly into anyone's eyes is not recommended and could result in retinal damage.
LEP Vs. LED Flashlights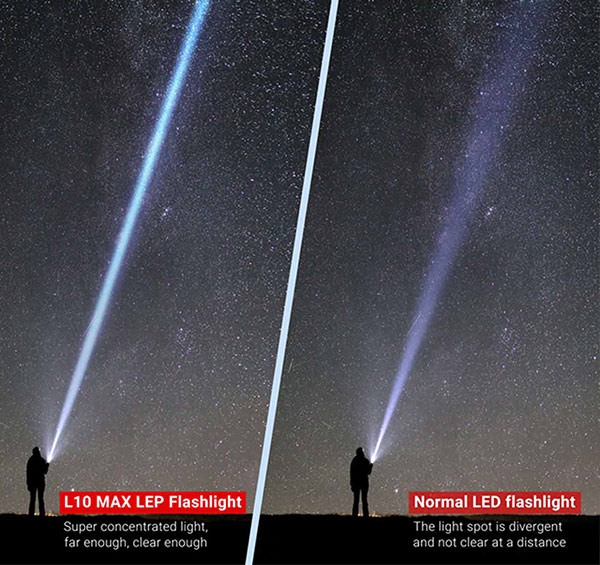 So the big question remains - are LEP set to replace LED flashlights? The answer is quite simple - it depends on the application. While LEP lights boast incredible efficiency and beam distance, standard LED lights will typically have a wider spread beam for area lighting. With this taken into account LEP lights are ideal for specific tasks such as long distance spotting while LED lights are better all-rounders.
To get the latest in flashlight news, be sure to subscribe to our email newsletter! You can also follow our socials on Facebook, Instagram, Youtube and Twitter to get sneak peeks at newly-released lights. Thank you for reading! – The Battery Junction Team